American TV Shows coming soon - from The Flash season three to Empire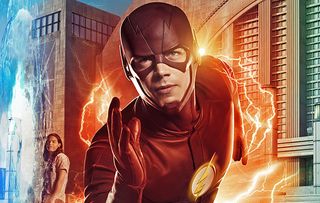 American TV Shows - your complete guide to the best American TV shows coming in October on Sky One, Fox, Netflix, Sky Living and 5Star
American TV shows coming up in October - from superheroes to zombies, we preview the best American TV dramas heading your way including The Flash, Supergirl and Empire...
THE FLASH Season Three, Sky One
The last season of The Flash wasn't a barrel of laughs for Barry Allen. The Central City hero lost his close friend Caitlin, and realised that the villain trying to kill his fiancé Iris was actually his future self. It all culminated when Barry sacrificed himself to save Central City by walking into the Speed Force – the powerful energy source where speedsters lose physical cohesion and form.
Fans won't have to wait long to see the red-suited racer again, but according to Grant Gustin, who plays him, Barry will not be the same man he was before: "Now it's season four, we'll see Barry in full mastery of his skills."
SUPERGIRL Season Three, Sky One
The last time we saw Supergirl, the future of Earth was in danger as Queen Rhea launched a full-scale invasion. Her plan was thwarted by the Girl of Steel, though she was forced to banish her boyfriend Mon-El from Earth to save his life. As the new series starts, Supergirl, aka Kara Danvers, is still coping with the fallout. "It's a dark period," says Melissa Benoist, who plays her. "The end of season two was a gut-wrenching experience."
Viewers will also get to meet new villain, Reign, who we saw heading Earthwards from Krypton. "Reign is unlike any other villain we've had on Supergirl," says Melissa . "I'm worried for Kara."
THE WALKING DEAD Season Eight, Fox
Prepare for more edge-of-the-seat excitement as The Walking Dead returns for season eight with Rick and the evil Negan continuing their vicious battle for supremacy in the show's 100th episode. The drama left off with the Saviors beating a retreat, Rick nursing a bullet wound and Michonne surviving a fight to the death with one of the Scavengers.
"If last season was the preparation for war, now we are right into it," says Lennie James, who plays martial arts expert Morgan. "We don't stop to catch breath until at least episode three. It's going to be brutal and there are going to be casualties."
STRANGER THINGS 2, Netflix
The Stranger Things gang is back in action in a second series that brings fresh characters and a terrifying new monster to the small town of Hawkins, Indiana. The new nine-part thriller is set in 1984, one year on from the eerie events of last season when telekinetic teen Eleven was trapped in the parallel universe known as the Upside Down.
"Everything is bigger, the stakes are higher and the danger is much more real," promises David Harbour, who plays police chief Hopper. "It's a lot scarier than season one, and the Upside Down is a far more perilous place than we previously imagined."
MARVEL'S INHUMANS, Season One, Sky One
This sci-fi drama follows a royal family of superhumans with diverse powers living on a moon kingdom called Attilan. Led by Black Bolt, the family oversees a society where those without abilities are forced to toil in mines – leading Black Bolt's brother Maximus to plot a revolt.
"Maximus has no abilities and he should be working in the mines, which is what happens to all the people who have rubbish powers," says Iwan Rheon, best-known as Ramsay Bolton in Game of Thrones. 'Because he's the brother of the king, he's allowed to be part of the royal family. But he wants to shatter what he feels is an archaic system.'
THE GOOD DOCTOR, Season One, Sky Living
As psychopath Norman Bates, Freddie Highmore spent five seasons on Bates Motel murdering people. Now, in this new series, the London-born actor gets to make amends. He stars as brilliant young surgeon Dr Shaun Murphy, who happens to have autism, which means he faces an uphill task trying to win over his colleagues when he relocates from the quiet of the country to the prestigious St Bonaventure Hospital in California.
"Shaun has a moments of happiness mixed in with his struggles to communicate with others," says Highmore. "But it's nice to be play a character saving people after years of killing them."
EMPIRE, Season Four, 5STAR
As the show moves to 5STAR, the fourth season opens five months on from the car explosion that robbed Lucious Lyon of his memory and the music mogul still has no recollection of who he is. Helping him with his recovery is rehab nurse Claudia, played by Demi Moore, but her unconventional bedside manner has Lucious's ex-wife Cookie on high alert.
"In a way, this is Empire's thriller moment," says Demi, whose daughter Rumer Willis also appears on the show. "It's very psychological and complex. Claudia is more dangerous because she's not like a villain who operates out of greed or power."
THE PUNISHER, Season One, Netflix
After his widely praised portrayal of Frank Castle, aka The Punisher, in the second season Daredevil, it was only a matter of time before actor Jon Bernthal was given his own standalone series. This 13-part spin-off continues the story of the ultra-violent vigilante whose family were murdered by the Mob after witnessing a killing.
After exacting revenge on those responsible, Frank is now in hiding and begins to uncover a much larger, deep-rooted conspiracy. 'It's going to get into as dark and as brutal a place as you've ever seen in the Marvel world, I can promise you that,' says Jon.
Watch in October for these great American TV shows.
As well as writing on sport and television for What to Watch, Richard McClure has contributed art and travel features for a wide variety of publications, including the Financial Times, The Guardian, and The Observer.
Get the latest updates, reviews and unmissable series to watch and more!
Thank you for signing up to Whattowatch. You will receive a verification email shortly.
There was a problem. Please refresh the page and try again.