Anita Harris: Carry On legend says Celebrity MasterChef made her feel like a kid again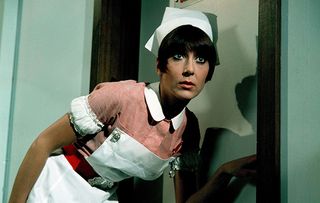 (Image credit: ITV/REX/Shutterstock)
Anita jokes about her cooking: "I did say I had Imodium tablets in my pocket if they needed them!"
Carry On legend Anita Harris quips on Celebrity MasterChef that her culinary skills are so bad judges John Torode and Gregg Wallace "might have to go to hospital".
76-year-old Anita – who appeared in Carry On… Follow That Camel and Carry on Doctor – is joined in her heat by ex-EastEastEnders actor John Patridge, former Saturdays singer Frankie Bridge, Made in Chelsea's Spencer Matthews and presenter Jean Johansson.
Here actress, singer and entertainer Anita Harris tells us all about her Celebrity MasterChef adventure…
What made you want to take part in Celebrity MasterChef?
Anita Harris: "When you're on tour, you tend to either eat out or eat salads in the dressing room. I suddenly realised how little I knew about creative cooking… and how inventive the others in my heat were! I took one look at the Mystery Box and thought: 'I don't know what to do!' But then something kicked in and I started running on auto-pilot!"
What did judges John and Gregg have to say about your cooking?
AH: "I think they struggled at times to find ways to comment but I noticed they did have a big twinkle in their eyes. They realised I was doing things I'd never done before in my kitchen at home and, once I'd got over the nerves, I think I found something within my cooking that at least pleased them. But I did say I had Imodium tablets in my pocket if they needed them!"
Have you relished the opportunity to develop a new skill at this time of your life?
AH: "Oh yes! Doing MasterChef was just like being a kid again – it took me back to being really young, being a student and really wanting to learn. It's put me on a path of wanting to try harder if ever I have friends around for dinner – now I'm not afraid to experiment. It was a wonderful experience."
Many people will know you from the Carry On films Follow That Camel and Carry On Doctor. Did you ever cook for any of your Carry on co-stars?
AH: "I didn't, but Hattie Jacques used to cook every Sunday for any actors that felt they needed a good Sunday meal. She opened her home to actors and friends and the place was full of the joy of people getting together. Hattie was an incredible lady; such a delight, totally professional and had that lovely kindness of spirit that she shared."
Celebrity MasterChef continues on BBC1 tonight at 8pm - Anita Harris features in the episode on Thursday 30th August.
Carry on Pics: ITV/REX/Shutterstock
Get the latest updates, reviews and unmissable series to watch and more!
Thank you for signing up to Whattowatch. You will receive a verification email shortly.
There was a problem. Please refresh the page and try again.