Antony Cotton shares update on whether or not he'll return to Dancing On Ice as fans send their support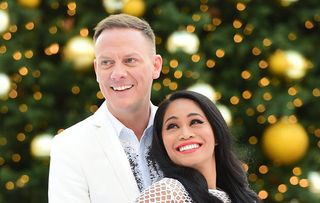 (Image credit: PA)
It's been a painful week for Antony Cotton, who has suffered broken ribs after an accident whilst rehearsing for Dancing On Ice.
Concern has been rife among DOI fans, who had been uncertain about whether the Corrie star would be able to return to the ice for Sunday's show.
Thankfully, the actor did confirm on Friday's This Morning that he would be back to skate again.
But now, on the day of the show, it seems Antony really has put fans minds at rest. He has appeared to confirm on social media that he will be taking part in the 6pm show.
A fan account shared a Tweet about Antony's return to the ITV show, writing, ."@antonycotton & @YayItsBrandee are ready to go for week 5, all be it with a couple of popped ribs for Antony. They'll be flying the flag tonight @ITV 6pm dancing to 'I am what I am'."
Antony then replied, seeming to confirm that he would be performing, despite the horrific injury.
In a tounge-in-cheek comment, he responded, "Ready as we'll ever be with broken ribs! Lol not lol".
Antony also shared the good news that he was actually at the skating rink studio in Hertfordshire by posting a video.
He revealed the front doors of the studios, with the caption "Ice City"
Viewers were clearly delighted to hear the news that Antony would definitely be returning to Dancing On Ice.
And while they praised his dedication, some concerned fans encouraged the star to take it easy.
One wrote, "I take my hat off to you for continuing, you must be in so much pain. Best of luck but please take care".
While a second fan commented, "All you can do is your best under the circumstances many wouldn't so. flash your beautiful smile and give Jason hell Antony rooting for you."
And a third said, "Awww Antony so brave! Hope it goes well."
It seems that all is going ahead for Antony to appear alongside his partner Brandee Malto on Sunday's show. However, only time will tell!
Dancing On Ice continues tonight (4th February), ITV, 6pm.
Get the latest updates, reviews and unmissable series to watch and more!
Thank you for signing up to Whattowatch. You will receive a verification email shortly.
There was a problem. Please refresh the page and try again.