'Army people tell us how realistic Strike Back is'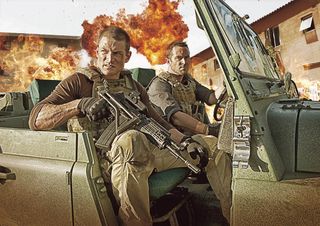 Stand by for an injection of macho, high-octane adventure as Sky1's action-packed espionage drama Strike Back returns on Sundays for a third series of edge-of-the-seat missions. Philip Winchester and Sullivan Stapleton are back in the saddle as brothers in arms Stonebridge and Scott, alongside Rhona Mitra, who joins as new Section 20 head Captain Rachel Dalton, and Charles Dance, who plays a billionaire baddie. We caught up with 31-year-old Winchester on set in South Africa for a debrief... There's less sex and more gunplay this year... Last year we were figuring out who these characters were, but now there's more time to fire ammunition. We spent a month before the shoot getting familiar with 9mm Glocks and AK-47s and doing sniper training. I grew up in Montana, and I'm used to handling guns. People from the armed forces write in to tell us how realistic the show is... That was the biggest and best surprise from last series, and we want to maintain that. There is artistic license of course, but the realism is a challenge for us and we all collaborate to get it right. I eat 5,000 calories a day when I'm filming... We have to look like we could be in the Special Forces, but I'm naturally quite skinny, so I have to eat as much as I can, and make sure I have a protein shake every hour or two. We set up a gym at base camp... I work out every day before shooting and sometimes during my lunch break. We try to use the weights whenever we get a bit of spare time. There is competition between the guys and girls on set... Michelle Lukes, who plays Sgt Julia Richmond, hit the target first time in sniper training. We couldn't believe it, as nobody had managed to do that all day. Then she just kept on hitting it time after time – she was brilliant. There are some things that women are better at than men, and vice versa... In the Special Forces, they use the different sexes for very specific tasks. My wife Megan and I have spent half our married life in South Africa, so it feels like home... We're here for eight months at a time, and that always includes the summer. There is talk, if Strike Back carries on, that they might do some episodes in a snowbound setting. They're also talking about doing some city shoots, and I would love the show to go to London, where I went to drama school.
Get the latest updates, reviews and unmissable series to watch and more!
Thank you for signing up to Whattowatch. You will receive a verification email shortly.
There was a problem. Please refresh the page and try again.