The Great British Bake Off to enjoy Italian week for first time in its history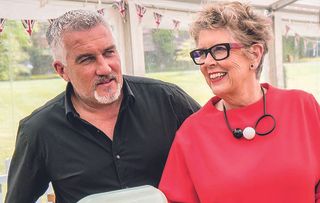 (Image credit: Mark Bourdillon)
The Great British Bake Off will enjoy Italian week for the first time...
The Great British Bake Off will say 'ciao' to a Bake Off first this week, as the six remaining bakers take on Italian themed challenges for the first time in the show's history.
And the show's home economist, Faenia Moore, who sources all the ingredients for the C4 hit, has revealed Tuesday's episode is one of her favourites.
"It was one of my favourite episodes," she told TV Times. "I really enjoyed the research as it's my favourite food. I had to source lots of delicious Italian ingredients: ricotta, mascarpone, marsala, limoncello. They also used citrus fruits to create wonderfully fresh flavours."
Faenia also revealed how she makes sure she's ready for each series. "I like a list! I make lists of lists, have three highlighters, and a crossing-off system. You have to be organised or it's chaos. Before the series, I spend a month sorting ingredients.
"If somebody wants a kilo of ground almonds, that's 10 packets in a supermarket, so I try to buy wholesale. Other times, people say: 'I'd like tinned peaches from Tesco…' or 'I'd like Waitrose Strong Flour…' as that's what they've practised with and it does make a difference. Flours have different protein content.'
Finally, did you know that the chocolate and raspberry cake we see in the opening titles is her creation?
Faenia admitted, though: "I thought I could bake eight years ago when I started this job. In hindsight, I couldn't. Now, I'm pretty good. You've no idea the amount I've learned from the judges. For example, Paul's taught me so much about bread."
Bake Off Italian week is on Tuesday on C4 at 8.00pm.
Get the latest updates, reviews and unmissable series to watch and more!
Thank you for signing up to Whattowatch. You will receive a verification email shortly.
There was a problem. Please refresh the page and try again.