'Baptiste' Season 2 — US release date, plot, cast, episode recaps, and all you need to know
Baptiste Season 2 is drawing to a dramatic close...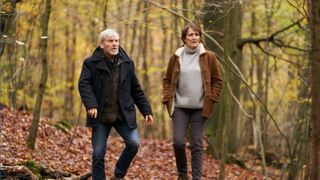 Baptiste Season 2 is heading to PBS MASTERPIECE in the US, while in the UK it's available on iPlayer.
And we again follow the life and career of a retired police investigator, Julien Baptiste who finds himself at the heart of a new case. It takes viewers into Budapest's secretive and corrupt underworld and is having us on the edge of our seats.
Here's everything you need to know about Baptiste Season 2...
Baptiste Season 2 release date
In the US, Baptiste Season 2 will begin on 17 October on PBS MASTERPIECE at 10pm.
In the UK Baptiste Season 2 is available still on BBC iPlayer. You can also watch Baptiste Season 1 (opens in new tab) on iPlayer if you need a recap of what happened.
What happens in Baptiste Season 2?
When we spoke to Tchéky Karyo, he told us his dogged detective is more troubled than he has been before. He said: "In the present day, we see Julien down and yelling at the world with his pain. His family's a wreck. People love this character because you can rely on him but now he's losing his temper and drinking. It's a special journey for him this time. There are a lot of amazing surprises..."
If that makes it sound like there's plenty more gritty drama to look forward to in the new series, the BBC synopsis for Baptiste Season 2 confirms it! It says: "Julien Baptiste is not the man we knew before. After enduring a horrific personal tragedy, Julien has pushed his wife Celia away and is looking for any distraction — whether that be the bottom of a bottle or a new case — to consume him.
"When British Ambassador Emma Chambers' whole family disappears whilst on a skiing holiday in the Hungarian mountains, Baptiste immerses himself into Emma's world, committed to finding her husband and two sons.
"However, when the case turns into something far more brutal and desperate, Julien must navigate a Hungarian police force he doesn't trust and unrelenting media who are hungry for information on such a high-profile international case. Julien must remain rational in the face of chaos in order to find Emma's family. Will he be able to solve his most complex case yet?"
Who is in the cast for Baptiste Season 2?
Of course, Tchéky Karyo is reprising his role as Julien Baptiste, who first appeared in the drama The Missing between 2014-2016. Speaking about the new season, he said: "I am so excited and proud of Harry and Jack [Williams, the show's writers] for their new audacious story in Hungary. I can't wait to prepare for Julien's new adventure and for the emotions that he is about to go through.
"I'm looking forward to sharing this incredible journey with an amazing cast."
Killing Eve's Fiona Shaw will also be joining this season, starring as British Ambassador Emma Chambers. Emma's world is turned upside down when her whole family goes missing, and Baptiste must help her find out what happened.
Speaking about her role, she said, "I'm honoured to be joining this hugely talented and committed team with the superb writing of Harry and Jack and under the direction of Thomas Napper. I'm so lucky to be working with all the best of the new generation!"
Karyo has really enjoyed working with Fiona Shaw, too! He said: "I was thrilled. Fiona's fantastic, moving and a very strong personality, who I really enjoy acting with. It's fun. We have a lot of ways of approaching things in common."
What happens in episode one of Baptiste Season 2?
This new series opens with a woman rolling out of bed onto a wheelchair. She then meets a man in a car park who helps her into the car. The woman says to the man "Do you think that I've lost my mind?"
The timeline then flashes back to 14 months earlier and the same woman (who is not in a wheelchair) is holidaying in the Hungarian Mountains, with her avid bird watcher husband Richard, and their two teenage sons Alex and Will. Will has not spoken in two years and is constantly on his phone. It is then revealed that the woman is the British Ambassador, Emma Chambers.
As the scenes continue in the past, Emma discovers that her family has disappeared from the hotel they're staying at and there is international outrage. Baptiste travels to Hungary and turns up to the hotel to offer Emma his services to help find her family. After Emma thinks he's an interviewer, he explains, "No, I'm Julien Baptiste. I'm here to help you find your family. I find people, Mrs. Chambers. I've done this all my life. I do not require payment." Confused, she questions why he would want to help her and he simply says, "Because I can."
Later, when a body is found, along with a terrifying video recording, the situation takes a horrifying turn as they must work against the clock to crack this nail-biting case.
What happens in episode two?
This episode opens in the past in Paris, where Baptiste is shopping for a toy, along with his wife. They turn up at their daughter Sara's apartment, with a soft toy elephant in tow, and knock. She does not answer and they hear a baby crying. Panicking, they open the door with a key and run inside. They find Sara on the floor, not moving as her baby cries in the cot. Baptiste cradles Sara in his arms. He hugs and cries into the toy elephant as he sits in the hospital.
We are then brought back to the present day, where a wheelchair-bound Emma and a man have turned up at Baptiste's home to show him the terrorist, Andras Juszt, who murdered her husband, captured and locked in a dog cage in the back of her car.
The imprisoned terrorist declares that he can help find her son, Will, on one condition — that Baptiste is involved.
However, a tortured Baptiste refuses until Emma reminds him that he owes her.
The timeline then goes back to the past, 14 months earlier where the police have received a petrifying hostage video. Emma decides to take extreme action to try and save her family, no matter how dangerous it could be...
What happens in episode three?
We begin in the past, where a woman is having an ultrasound scan, accompanied by her husband. The doctor apologetically tells her that the baby has no heartbeat and she sobs as her husband comforts her. When in a waiting room, the woman notices a lady pushing a baby in a buggy and says, "She shouldn't be doing that in this place. How can she be so careless?"
When a video of a masked figure called Gomorrah appears, Baptiste guesses it is the leader of a far-right terrorist group. Baptiste and police officer Zsofia Arslan, believe that Far Right politician Kamilla Agoston (who is now revealed as the woman having an ultrasound at the beginning) knows who is behind the mask.
As they begin to investigate, Emma finds mysterious messages on her son Alex's computer, which results in shocking bloodshed...
What happens in episode four?
Beginning in the past, a shell-shocked Emma stares at Alex's lifeless body as she lays paralysed on the ground. Baptiste is terrified as he looks around at the dead and wounded bodies amongst the chaos. Baptiste hides one of the terrorists' masks in his coat and shouts for help.
Back in the present and desperate to find Emma's son Will, Emma, Zsofia and Baptiste are working with Andras to investigate Kamilla and her husband Michael's involvement in the terrorist group and the whereabouts of Will. However, the investigation soon turns awry.
Through Kamilla's husband, they uncover a new lead and an extraordinary discovery is found...
What happens in episode five?
Starting in the past, Emma, Richard, and their daughter Laura are gathered in the kitchen as Laura performs CPR on a CPR mannequin while singing the song "Stayin' Alive." They laugh and Alex and Will turn up in the kitchen. "I don't even want to ask what's going on here," Alex says. Emma responds, "Apparently giving CPR to the sound of Stayin' Alive is the only way to prevent certain death." "That's how they teach you to get the rhythm right," Laura explains.
In the present day, with Will safe, he is questioned by Baptiste and Emma in the hope of finding out the identity of Gomorrah. Instead, they find out another gruesome attack is planned and they must race against time to stop it...
What happens in episode six?
The episode begins in the past one week ago, and Andras is standing by a waterfall in the forest. He seems nervous as he walks towards a cabin and goes inside. He picks up a bag and pulls out rolls of money. In the next scene, he puts fresh flowers on Alex's grave, where he is then captured by the man seen at the beginning of the series getting into the car with Emma.
We're taken back into the present day, where Andras picks up Will in his car and drives away. Shocked by Will's escape, Baptiste and Emma must race to do all they can to stop the next attack and find Will. But will they succeed?
Is there a trailer?
Yes, one has finally landed! The dramatic trailer opens with a news report revealing that police in Hungary are searching for the family of British ambassador Emma Chambers. We then see Emma making an appeal, saying: "If anyone knows anything, help me find my family". We then get a first look at our hero, who introduces himself to a cop like James Bond would! "Your name?" "Baptiste, Julien Baptiste".
Lucy joined the WhatToWatch.com team in 2021, where she writes series guides for must-watch programmes, reviews and the latest TV news. Originally from Northumberland, she graduated from Oxford Brookes University with a degree in Film Studies and moved to London to begin a career writing about entertainment.
She is a Rotten Tomatoes approved film critic and has a huge passion for cinema. She especially loves horror, thriller and anything crime-related. Her favourite TV programmes include Inside No 9, American Horror Story, Stranger Things and Black Mirror but she is also partial to a quiz show or a bit of Say Yes to the Dress!
Thank you for signing up to Whattowatch. You will receive a verification email shortly.
There was a problem. Please refresh the page and try again.