Charlotte Ritchie on tonight's massive Barbara drama. SPOILER ALERT!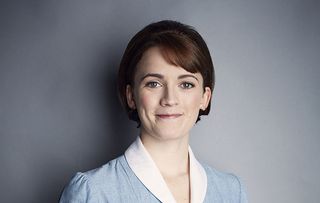 (Image credit: BBC/Neal Street productions)
Call the Midwife star Charlotte Ritchie reveals all
Nonnatus House is in mourning after Call the Midwife's sweetest nurse, Barbara Hereward, passed away in hospital from meningitis. For Charlotte Ritchie, who played Barbara, the decision to leave Call the Midwife was difficult, but one she felt she had to make.
Here, in a exclusive chat with TV Times, Charlotte Ritchie explains why the time was right to move on….
TV Times How tricky has it been to keep your departure a secret?
Charlotte Ritchie: "Pretty difficult to be honest. I accidentally told my Mum, it just came out. But she was the number one person who really didn't want to know!"
TVT Why did you decide to leave Call the Midwife?
CR: "It was an incredibly tough decision but it just felt like the right time to try something new. I absolutely adore Barbara and Call the Midwife and I didn't ever want to get to the stage where I took it for granted or got too comfortable."
TVT Were you happy with the way she bowed out?
CR: "It was great to let her journey end in such a immense way. It's a tragedy that she didn't get to go on and live her life, but it's important to highlight the danger of meningitis. It is fitting that everyone got to visit her and that she had time to say goodbye and make peace. I did cry a lot doing those deathbed scenes because I was saying goodbye to a character and job I loved. Also, Linda Bassett [Phyllis Crane] and Jack Ashton [Tom Hereward] were so moving."
TVT What will you miss most about the show?
CR: "So much. The incredible ensemble cast are now truly great friends. I feel really honoured and lucky to have been part of such a quality show. It has been a life-changing job. We'll all stay in touch though, because we have a WhatsApp group to update each other on what we are doing. There will be lots of visits to different people's plays and projects."
TVT What's next for you?
CR: "I'm filming a taster for a TV version of a podcast some friends and I made, called Capital, which is exciting. It's a Brexit satire imagining capital punishment has been brought back by a referendum. I'm also in an E4 comedy Dead Pixels, later this year but everything else is TBC!"
Call the Midwife concludes next Sunday on BBC1 at 8pm
Get the latest updates, reviews and unmissable series to watch and more!
Thank you for signing up to Whattowatch. You will receive a verification email shortly.
There was a problem. Please refresh the page and try again.