Barry Humphries AKA Dame Edna Everage says there's too much 'puritanism' in TV today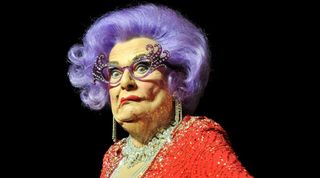 Barry Humphries, the Australian comedian best known for playing Dame Edna Everage, has criticised the 'puritanism' in television today.
Talking to the Radio Times, the 81-year-old revealed he had wanted to joke about Jeremy Corbyn during his appearance on BBC One's Michael McIntyre's Big Christmas Show.
However, he said he was told by 'a nameless, faceless person at the BBC' that he would also have to say something about David Cameron.
Comedian Barry Humphries in character as Dame Edna Everage (Tim Goode/PA)
"Imagine if the BBC tried to do Till Death Us Do Part again today, with Alf Garnett ranting against black people?" he said. "It couldn't be done. There is a new puritanism that we are experiencing, a nervousness."
The award-winning star also suggested the popularity of Downton Abbey in the US is 'because there are no black people in it', but it isn't clear whether he was joking or not.
Barry Humphries, aka Dame Edna Everage (Julien Behal/PA)
"There's a fear of treading on people's toes and I don't like it," he stated.
When asked if causing offence is important to him, the Australian admitted: "Quite important... It's very easy to become a safe figure and tempting, too, to want to be all things to all people."
Barry Humphries as Sir Les Patterson (Johnny Green/PA)
His characters, including the grotesque Australian diplomat Sir Les Patterson, have become renowned for pushing the satirical envelope at times.
In 2003, the comedian lost his Vanity Fair agony aunt column for a remark made in the February issue.
He blamed it on political correctness.
http://www.youtube.com/watch?v=2_N5TRk1Qt8&feature=oembed
As Dame Edna, he responded to a question asking if learning Spanish was a good idea with: "Why Spanish, who would you talk to – your maid?"
Many took offence, including Mexican actress Salma Hayek, who wrote a critical letter in response.
The popular comedian will be on more genial ground presenting Barry Humphries: Barry's Forgotten Musical Masterpieces, a new three-part series of his musical memories for BBC Radio 2.
http://www.youtube.com/watch?v=IheC55pliSY&feature=oembed
As a boy growing up in Melbourne during the 1930s and 1940s, he was captivated by the sounds and music on the family wireless.
Early musical memories include Fred Astaire, Flanagan And Allen and Judy Garland, to name a few.
In a stellar career, the veteran star has enjoyed success on both sides of the Atlantic.
His first major break in Britain came on the stage in the role of undertaker Mr Sowerberry in the original 1960 London production of Oliver!
He recorded Sowerberry's feature number That's Your Funeral for the original London cast soundtrack album, and went on to reprise the role on Broadway in 1963.
In 1967, he starred as Fagin in the Piccadilly Theatre's revival, and subsequently reprised the role in Cameron Mackintosh's award-winning staging at the London Palladium.
http://www.youtube.com/watch?v=exDOgpY_cjs&feature=oembed
Mainstream television success followed in the 1970s.
"I still have a soft spot for radio," he said. "It's an intimate and flexible medium. You have to listen. Whereas the telly is kind of wallpaper."


Barry Humphries: Barry's Forgotten Musical Masterpieces is broadcast on January 13 at 10pm on BBC Radio 2.
Get the latest updates, reviews and unmissable series to watch and more!
Thank you for signing up to Whattowatch. You will receive a verification email shortly.
There was a problem. Please refresh the page and try again.