Fashion stylist Basma Khalifa on her new BBC documentary Inside The Real Saudi Arabia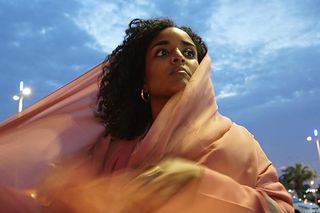 (Image credit: Jessica Kelly)
Basma Khalifa learns what life is like for young women in Saudi Arabia in her new BBC Three documentary, which is now available to watch on BBCiPlayer
Journalist and fashion stylist Basma Khalifa was born in Saudi Arabia, but her family left when she was three.
Now she wants to find out about a country where women have only recently been allowed to drive, and need approval from a male guardian to get a job, travel abroad or marry.
Basma, 29, got a real taste of daily life for young Saudi Arabian women and was pleasantly surprised.
"I went there genuinely open-minded and found there was more to Saudi Arabia," she reveals. "It's not so dissimilar to here – you go to coffee shops, go out, visit the beach.
'I asked women my age, "Why aren't you driving?" They'd say, "It's expensive and I don't want to. You act like we should be!"'
Filming was cut short, however, when a minder found out Basma had been using her phone to research female activists campaigning for the right to drive.
"You don't discuss these things in Saudi, whereas over here you can talk about anything you want," she explains. "But when I came back, I was like, 'I wish I was in Saudi.' I never thought I'd feel like that. I'd go back tomorrow!"
Inside The Real Saudi Arabia is now available to watch on BBCiPlayer
Get the latest updates, reviews and unmissable series to watch and more!
Thank you for signing up to Whattowatch. You will receive a verification email shortly.
There was a problem. Please refresh the page and try again.