Bear Grylls: 'I sent home people who I thought were either going to die or get someone killed!'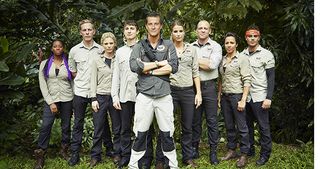 (Image credit: betty / Mark Johnson)
Bear Grylls tells TV Times why his new reality show, Mission Survive (ITV, Friday, Feb 20), in which eight celebrities undertake a deadly jungle expedition, is the toughest on TV...
Bear, 40, takes eight famous faces including Emilia Fox and Mike Tindall into the depths of the Central American rainforests on an epic 12-day survival mission.
When they signed up to the series, was Mission Survive what they thought it would be?
"They were warned really clearly and strongly at the start that this is NOT I'm A Celebrity. We said you're not going to be sat in a jungle camp with a lot of cameras around, this is going to be a genuine expedition and it's going to be life changing and there will be pain."
What dangers did they face in the rainforests?
"Scorpions, massive snakes and we had crocodiles to deal with. There were also steep slopes, big jungle rapids, rivers, cliffs, gauges and mosquitoes the size of your thumb – I think a lot of the guys were shocked."
At the end of every episode you send home one star. How did you decide?
"On day one a few of the girls turned up with their vanity cases and one of the crew tapped me on the shoulder and said: 'They're dead! And I told him to hold his judgement because I've learnt not to judge a book by its cover.
"My job was to send home the people I thought, 'Well they're either going to die or get someone else killed!'"
So you kept the fittest and strongest?
"No it wasn't about that. It was about looking for the person with the most heart – I wanted to find a real hero."
Safety must have been your main concern. Did you have any bad experiences?
"Yes, one of the girls nearly drowned and one of the guys had to be hospitalised after he got hit hard in the head and had a massive sort of gash."
You had to eat tarantulas. What do they taste like?
"Good, yeah. The thing is people say it tastes like chicken – well, they're either lying or they're getting their chickens from really terrible places! Tarantula tastes bony and chewy and you have to burn off its urticating hairs because otherwise they can get stuck in your throat and suffocate you.'
You must have been careful about what they ate, like the death apple?
"There's enough poison in one of them to kill 20 men, so yeah you've got to be careful. It looks juicy, but even if you sleep under its leaves, the rain comes off the leaves and covers your whole body in a burning rash which is going to incapacitate you."
Will your children be watching the series?
"They love what I do, but recently I've noticed a new dynamic which is them acting a bit too grown-up and telling me off. So they'll watch this and go, 'Papa, why did you do that stupid thing, you almost died!'"
Get the What to Watch Newsletter
The latest updates, reviews and unmissable series to watch and more!