Bear Grylls: 'These guys thought they'd never see their families again!'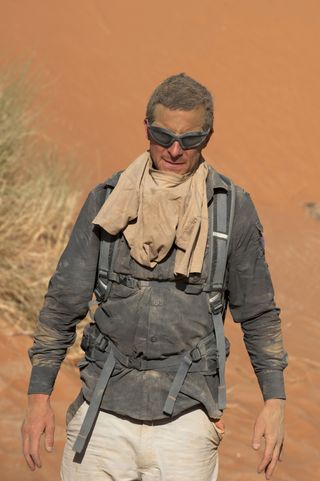 (Image credit: Discovery Communications/Laura L)
In Bear Gryll's new series, Escape from Hell (opens in new tab) (Discovery, Monday), the adventurer recreates astonishing stories of survival. TV & Satellite Week magazine (opens in new tab) talked to him about roasted tarantulas, his survival-mad sons, and drinking beer in his underpants...
What is your new series, Escape from Hell, about?
"It's about people who had real-life experiences of going through hell, whether lost in the Amazon or in the Australian Outback. In some cases, these guys were lost for seven weeks, and it was brutal. I travel to those places and recreate parts of their struggle for survival, showing what they did right and what they did wrong. We give cool little tips that could have made a difference."
How else does it differ from Born Survivor?
"What I wasn't prepared for was that it was very emotional. A lot of these guys had never talked in public about their ordeals. They all felt they were never going to see their families again. It was life-changing for them, so it was much more emotive than any of the shows I have done before."
What are your favourite stories in the series?
"One story that stands out for me is a guy called Eric LeMarque, a former ice hockey player whose life had spiralled out of control because of drugs. He got lost snowboarding in the Sierra Nevada and spent eight days in the frozen wilderness. He was super lucky to get found, though it cost him both his feet because of frostbite. He had a real life-turning moment when he ditched his crystal meth so he could use the bag to carry water. He realised it was the crystal meth that had got him into that mess. That was a turning point for him. It gave him the determination to pick up his life, get out of there and start again."
What are some of the survival tips that viewers will see?
"In the first programme, I recreate when a survivor made a fire by using a chewing gum wrapper and a battery. What I have always loved about survival is the resourcefulness of it, how you can take a shoelace and a tea bag to make something useful. That stuff is fun, and something I have always excelled at."
Your series usually involve you eating disgusting creatures. What did you try out this time?
"I drank snake blood, roasted a tarantula and cooked up a frog in the Amazonian rainforest. Survival isn't pretty and it doesn't taste nice; it's about doing what you need to do to give yourself energy and keep moving."
Are there any themes that link all the survival stories?
"Few of these guys had any survival skills or knowledge, but they realised that survival is all about your spirit, that fire and will to stay alive."
Do viewers ever contact you to say your programmes have helped them?
"We get loads of lovely letters and emails from people, whether it is from kids who have fallen through frozen lakes or skiers who have ended up in a snow-hole overnight. We had one recently from a guy who got lost in the Australian outback."
Do your three sons enjoy your shows?
"My kids have watched so many Born Survivors over the years that they know everything! We went on safari recently and my seven-year-old Marmaduke was teaching the local guides how to survive a hippo attack. He was coming out with some incredible tips."
Do you have to increase your fitness regime whenever you start filming a new series?
"I try to maintain fitness all of the time really; I consider it part of my job. I train hard most days. I also do a lot of yoga which keeps me flexible and bendy for hanging off trees. It is functional strength that I am looking to achieve rather than big muscles."
How do you relax after such a gruelling filming schedule?
"The light relief is always at the end. The crew works amazingly hard which means at the end of the filming we always have a great party, even if it is in a remote bar in the middle of the Guatemalan jungle having a beer in your underpants because you are sweating so much with the humidity."
*VOTE NOW for your most-loved stars and shows in the TV Times 2013 Awards (opens in new tab) and enter a draw for 47in LED TVs, YouView boxes and John Lewis vouchers.
Get the latest updates, reviews and unmissable series to watch and more!
Thank you for signing up to Whattowatch. You will receive a verification email shortly.
There was a problem. Please refresh the page and try again.