Bernie Nolan speaks out in final interview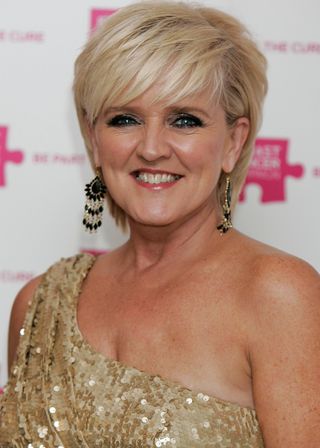 Bernie Nolan has spoken publicly one last time as she revealed how she plans to spend the final stage of her life.
The actress and singer (opens in new tab), who has terminal cancer, has said that she wants to spend whatever time she has left at home with her husband and teenage daughter Erin.
And in her new book Now and Forever - which she began writing in 2012 upon learning that the disease was incurable - she has also revealed some of the toughest moments of her cancer fight.
Bernie also said in the book that she intends to fight on as long as possible for Erin's sake.
"I desperately want to see her grow into the beautiful woman I know she will be. For that reason alone I will never stop fighting," she said.
"Erin cried a single tear when she was first told about the illness in 2010, then said: "I don't want to talk about it any more."
Bernie added that telling her daughter the cancer had returned was a lot more difficult.
"The diagnosis was much harder to put a positive spin on," she revealed in the book. "How could I tell her it had spread throughout my body and was in my brain? How could I tell her it was incurable? There is nothing positive to say about that.
"As any mum knows, whatever happens in your life – good or bad – your first thought is always, 'How much will this affect my child?'
"I wanted to shield Erin," she added. "I couldn't make it go away. I couldn't tell her truthfully that everything was going to be OK, but I could try to keep her life the same. I was determined to do that."
The book also reveals how Bernie had made a 'bucket list' of ambitions she had yet to achieve - including visiting Venice with Erin and her husband Steve Doneathy - as well as the heartache of losing her ability to sing.
The 52-year-old - whose TV appearances have included Brookside, The Bill and Popstar To Operastar - worked on the book until March when she became too ill to continue. It has subsequently been written on her behalf by her husband.
Get the latest updates, reviews and unmissable series to watch and more!
Thank you for signing up to Whattowatch. You will receive a verification email shortly.
There was a problem. Please refresh the page and try again.