Corrie bust up! Daniel Brocklebank on Billy and Todd's row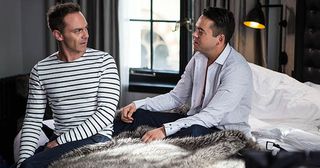 (Image credit: Mark Bruce)
Coronation Street's Daniel Brocklebank tells Soaplife why Billy Mayhew and Todd Grimshaw's night of passion goes wrong...
Passions are running high in Todd and Billy's hotel room until Todd ruins the moment and storms out reveals Coronation Street actor Daniel Brocklebank...
Prior to the bust up, how has Billy been feeling about Todd? "Billy is really excited by Todd, this relationship is very new for him and it's very passionate. He really likes him - it feels sexy and fresh and he certainly feels as though it's heading towards love."
So what goes wrong? "Todd mentions he was worried Billy wouldn't be up for their night together because he thought he'd still be "under the Bishop's petticoats" – this really annoys Billy who pulls back and asks Todd if that's really how he thinks of him, if so then maybe Todd doesn't know Billy after all! Todd storms out and says to Billy that he can pay for the room!"
What's Billy's reaction when Todd storms off? "Billy is gutted and thinks he might have overreacted. He goes straight to Eva who is one of his besties and tells her he thinks he may have just ruined the best thing that ever happened to him. Eva tells him to calm down and get on with it!"
What happens next? "Todd calls round at the vicarage and apologises for storming off. Within seconds, Billy and Todd are back in each other's arms and heading for the bedroom."
Todd later says he wants to move into the vicarage – how does Billy feel about this? "It's not good because Billy knows the Bishop's stance on him living with somebody is a no-go. He tells Todd that he can stay for a few nights but that's where it ends. Todd doesn't like that because he likes getting his own way. But Billy's job has parameters and he has to stick to them. Apart from this, Billy also feels it's too soon for them to start living together."
Would Billy give up the church if Todd asked him to? "Given time to think and weigh things up, and given the way Billy feels about Todd, then maybe he would consider it. Not because he is losing his religion, but more because of the views regarding gay relationships."
Get the latest updates, reviews and unmissable series to watch and more!
Thank you for signing up to Whattowatch. You will receive a verification email shortly.
There was a problem. Please refresh the page and try again.