10 Years Ago in the Soaps: Week Beginning October 28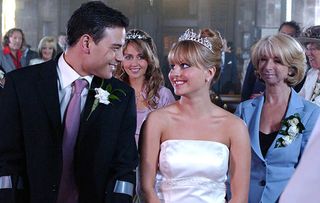 Remind yourself of all the soap drama that was happening in Corrie, Emmerdale, EastEnders and Hollyoaks 10 years ago this week!
10 Years Ago in the Soaps... Weddings in Corrie and EastEnders for Sarah Platt (Tina O'Brien) and Stacey Slater (Lacey Turner), a desperate, deceitful wife in Emmerdale in the shape of Nicola (Nicola Wheeler) and a new son for Tony (Nick Pickard) in Hollyoaks – who was eight years old!
Coronation Street
Awwwww! Sarah Platt and Jason Grimshaw looked so happy on their wedding day…for one brief moment! Bitter, twisted David Platt (Jack P Shepherd) made sure the day was ruined when he faked his suicide. David was working himself up into a frenzy of hate in the days leading up to the ceremony, and thought shooting the bridge and groom figures for the wedding cake would make him feel better. But it didn't. Because of all the stunts he had pulled trying to wreck Sarah and Jason's relationship, David wasn't invited to the wedding. He thought if he wrote a suicide note for his mum Gail to find, then the wedding would be cancelled. But Sarah found the note and ripped it up, sure David was pulling another stunt. Furious, he drove his car into the canal and the police turned up in the middle of Sarah and Jason's marriage ceremony to break the bad news and reveal that they were looking for David's body… But he walked into his house on his own two feet later the same day, proud that he had, indeed, ruined Sarah's wedding!
Maria Sutherland (Samia Smith, as she was then) was all loved up this week 10 years ago, with Liam Connor (Rob James-Collier). He had given her a necklace…so she bought him a puppy! But Liam admitted to Jame Baldwin that he didn't really want a dog and Maria soon sensed that, maybe, she had got her gift idea badly wrong. Within a few days, though, Liam had fallen for the pup and told Maria he would be keeping it and naming it Ozzy. Liam's sister-in-law Carla wasn't so smitten, though, when Ozzy ran riot in the factory!
Emmerdale
Nicola De Souza had people, especially David Metcalfe, believing she was a rich widow. Then David's jealous girlfriend, Jasmine Thomas (Jenna-Louise Coleman), discovered that Nicola's husband Donald (Michael Jayston) wasn't quite dead… Nicola was keeping him alive on life support so she had access to his money! If/when Donald died, everything would go to his son Miles…as long as alcoholic Miles was in recovery. Nicola's mission was to make sure Miles stayed drunk! And when she found him, he was swigging whiskey. Perfect! But Miles had someone on his side: Jasmine!
Tracy Metcalfe isn't the only villager to have written a book. Ten years ago today, Viv Hope (Denna Payne) was holding a book signing for her words of wisdom on childcare. Except there was so little interest that Viv bribed punters in The Woolpack with free booze to make up the numbers, not knowing her husband Bob (Tony Audenshaw) had paid some pensioners to come along and buy the book… But Viv soon found out when one little old dear wanted to be paid!
EastEnders
Stacey Slater and Bradley Branning's marriage was the second soap wedding of this week 10 years ago. And it, too, was going wrong… Stacey's brother Sean had overheard his sister talking to Max and realized they'd been having an affair. He confronted Stacey, who insisted it was over and she loved Bradley (Charlie Clements). Does that look like the face of a woman blissfully happy to be getting married to you? No, not to anyone… But Stacey did wed Bradley. She might not have, though, if she knew the Christmas that was brewing for her…
Jack Branning (Scott Maslen) made his first appearance in Albert Square this week 10 years ago. He came for his nephew Bradley's wedding and stayed for Ronnie Mitchell (Samantha Janus). Not that it was love at first sight… Ronnie was running a poker game, hoping to win enough money to sort her financial problems and hoping to fleece Jack. He invited others to join the game and Pat did. But this was really about Ronnie and Jack and a massive amount of money. 'Always bet on the blonde,' victorious Ronnie told Jack, in the end.
Hollyoaks
Jack and Frankie Osborne's newly arrived foster son, teenager Barry 'Newt' Newton (Nico Mirallegro), was Hollyoaks' first emo character – and he was a very emotional boy, with a very dark personality. Together with Lauren Valentine, Newt read about Sam Owen, who had burned down The Dog, killing four people. They thought it would be entertaining to pretend to be possessed by Sam's ghost – but Sam's brother Russ, who lost his girlfriend in the fire, is burning mad.
Tony Hutchinson turned 30 this week 10 years ago, and got a belting from his girlfriend Jacqui McQueen (Claire Cooper) – and an eight-year-old son from another ex, Tessie Thompson (Sian Gibson)! That was the first Tony knew of his little boy, Harry. Jealous Jacqui immediately felt threatened as she was unable to have children of her own after miscarrying Tony's baby. She pretended to be welcoming to Harry and Tessie but couldn't keep up the act and gave Tony an ultimatum: he had to choose between her and Harry.
Get the What to Watch Newsletter
The latest updates, reviews and unmissable series to watch and more!