10 Years Ago in the Soaps: Week Beginning August 5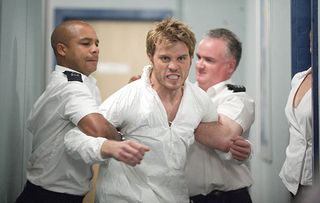 (Image credit: BBC ONE)
Remind yourself of all the soap drama that was happening in Corrie, Emmerdale, EastEnders and Hollyoaks 10 years ago this week!
EastEnders
Sean Slater (Robert Kazinsky) flew into a rage and had to be held back by policemen after he realised he had been stitched up by Deano Wicks (Matt Di Angelo) and Chelsea Fox (Tiana Benjamin). They have told the cops that Sean attacked Patrick Trueman (Rudolph Walker), as he worked in the Minute Mart, and left him lying unconscious, with blood pouring from a head wound. It was Chelsea's revenge for Sean cheating on her with her stepsister, Carly Wicks. The real attacker was Craig Dixon, who had argued with Patrick over buying alcohol.
Newcomer Craig Dixon (Rory Jennings) was trouble for more than Patrick… He got a job working in Ian Beale's chippy but put most of his effort into pursuing Ian's daughter, Lucy who, this time 10 years ago, was being played by Melissa Suffield – the third of four actresses to play the character. Thirteen-year-old Lucy was five years younger than Craig, but that didn't put him off. They started a secret relationship and Lucy was keen to impress Craig. So when he told her to steal from the Minute Mart, she did!
Coronation Street
Steve McDonald [Simon Gregson] was feeling awkward when Michelle Connor [Kym Marsh] and her son Ryan [Ben Thompson] arrived back in Weatherfield. After their fling, Steve wasn't sure what to say to Michelle. He was desperate to say something, but he didn't know where he stood with her (we'd say it's about 10ft away, from the look of the picture…). Michelle put him out of his misery when she later visited him and told him she loved him. Of course, she hadn't heard about his dalliance with Shania in Malta – or that Shania was, in fact, a man!
Norris Cole [Malcolm Hebden] got a shock this time 10 years ago, when he heard that his ex-wife, Angela, had died. He went to her funeral and met two more of her ex-husbands, Ivor Priestley [Paul Copley] and George Trent [Keith Barron]. They found they had a lot in common and regrouped in The Rovers, where they decided to form and ex-husbands' club. Norris got a bit giddy and confided in Ivor and George that he had found a woman he wanted to marry.
Chas Dingle [Lucy Pargeter] and Lexi Nicholls [Sally Oliver] were running scared… Chas had bedded gangster Colin McFarlane for a bet with Lexi and her, er, enthusiasm, had killed him! But Mrs Brenda McFarlane [Judy Holt] isn't wearing widow's weeds when she tracks them down – and she hasn't come mob-handed. Instead, she's got a wad of cash for them – a thank you for killing her husband, who was a bully. Phew!
Lexi also had another, much trickier problem this week 10 years ago… Her mum, Carrie Nicholls (Linda Lusardi) found a leaflet for an abortion clinic in schoolgirl daughter Scarlett's pocket and immediately assumed that Scarlett had been pregnant and had an abortion. Lexi tried to calm her down, but Carrie already thought Lexi was a bad influence on her little sister – and now this! She had made a mistake, though. Scarlett had picked up the leaflet when she accompanied her big brother Jimmy's girlfriend, Kelly Windsor, to the clinic.
Hannah Ashworth [Emma Rigby] was still starving herself and people were starting to notice that she didn't look well. One of them was her friend, Sarah Barnes [Loui Batley], and she was shocked when Hannah collapsed at the SU Bar, right in front of her and John Paul McQueen [James Sutton]. Sarah feared Hannah was on drugs. But it wasn't what Hannah was taking that was making her ill, it was what she wouldn't take – a good meal!
Pregnant Jacqui McQueen [Claire Cooper] was due to have her 12-week scan. She was desperate to have a baby, but her fella, Tony Hutchinson [Nick Picard], was less excited, as he found loving Jacqui was hard work.
So, Tony had planned to miss the scan. But he changed his mind – and was with Jacqui when she was told there was no heartbeat; their baby had died.
Get the latest updates, reviews and unmissable series to watch and more!
Thank you for signing up to Whattowatch. You will receive a verification email shortly.
There was a problem. Please refresh the page and try again.