10 Years Ago in the Soaps including EastEnders - Week Beginning January 20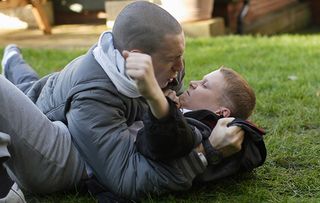 (Image credit: BBC)
10 Years Ago in the Soaps: Remind yourself of all the soap drama happening in EastEnders, Coronation Street, Emmerdale and Hollyoaks 10 years ago this week!
10 Years Ago in the Soaps - Jay Brown (Jamie Borthwick) was stabbed in EastEnders, Carla Connor (Alison King) shared a hotel room with Liam Connor (Rob James-Collier) in Coronation Street, Sam Dingle (James Hooton) was arrested in Emmerdale and Jake Dean (Kevin Sacre) was in for a shock in Hollyoaks…
10 Years Ago in the Soaps - EastEnders
Poor Jay Brown (as he was before he became a Mitchell), he was desperate in EastEnders to be one of Tegs' nasty gang. But he lived (luckily) to regret it when he was stabbed during a violent fight and left bleeding on the ground. Events spiralled out of control after Tegs set him a challenge and Jay pinched Dot Branning's door keys so he and the gang could get into her house. They began with chucking things around but it quickly got out of hand as Dot's precious budgies escaped. Then when Dot suddenly returned, the gang did a runner, leaving Jay to take the rap. Later in the week, Jay was ambushed and attacked by his so-called mates and ended up in hospital with worried dad Jase Dyer at his bedside.
Ronnie Mitchell (Samantha Womack) was suspicious about Jack Branning (Scott Maslen) - or at least, her sister Roxy was - but she got more than she bargained for when she started poking her nose into his past, 10 years ago. She couldn't understand the tension between Jack, his ex-wife Selina (Daisy Beaumont) and their 11-year-old daughter Penny but when she went to see Selina she discovered Penny in a wheelchair. Selina told Ronnie to ask Jack why Penny was disabled and, after a lot of misunderstandings, ex-cop Jack explained to Ronnie that his daughter had been injured in an accident caused by villains out for revenge on him. And he felt very guilty about it…
10 Years Ago in the Soaps - Coronation Street
While Maria Sutherland (Samia Longchambon) was busily arranging her and Liam Connor's wedding 10 years ago, Carla Connor (Alison King) was busily arranging her and Liam a business trip to Birmingham and a shared hotel bedroom. Liam, to be fair, didn't know that Carla had booked them a double room under the name Mr and Mrs Connor and she wasn't letting on it was anything other than a 'mix-up.' But he wasn't exactly complaining, wandering around the room in nothing more than a towel. And when Maria called, Carla had great fun winding her up about Liam showering in her room. Luckily, Carla's partner Tony Gordon turned up, otherwise who knows where the sexual tension might have led!
Michelle Connor (Kym Marsh) was still insisting that Ryan (Ben Thompson) was her son regardless of DNA but after he got into a fight with Alex Neeson – the lad who was possibly her real son – Ryan said he wanted to take the test to prove that Michelle was his mum. Sadly for Ryan, the test proved otherwise but he insisted he wanted nothing to do with his biological parents. Michelle wasn't so sure she could ignore her biological son, Alex, though…
10 Years Ago in the Soaps - Emmerdale
Sam Dingle went to a whole lot of trouble to cover up his cousin Eli's drugs game and risked losing his little boy Samson in the process, 10 years ago. Policeman Ross caught Sam with a package of Eli's weed in his car and, when Sam refused to shop Eli, he was arrested for possession with intent to supply drugs and warned he could spend up to two years in prison! Edna Birch's sister Lily was arrested, too, for growing the cannabis - though Edna hid the evidence - then social services got involved, warning Sam that Samson could be taken into care. It was a sorry mess all round!
Gray Sinclair (Christopher Villiers) got home from a business trip to find wife Perdy packing her things and moving out. But not to worry, there was always the gorgeous Katie Sugden (Sammy Winward) waiting in the wings, carrying a baby for him and Perdy (tricky one that) and fast falling for Gray's charms. She was more than happy to play hostess at a party he threw for his colleagues and was thrilled with the beautiful necklace he'd bought for her. She told Chas she wanted to spend the rest of her life with Gray… but did he feel the same?
10 Years Ago in the Soaps - Hollyoaks
Nancy Hayton and Jake Dean arrived home loved-up from a romantic weekend away, but Jake was soon back to his control-freak self, sabotaging Nancy's phone so she was unable to call for help when she suddenly noticed that baby Charlie was unwell. Nancy had to rush out into the village to get help and Charlie was taken to hospital and treated for a chest infection. But there was devastating news to come - the doctors discovered Charlie had leukaemia and would need a bone marrow transplant. And there was another shock to come… turned out Jake wasn't Charlie's dad!
Mike Barnes and Zoe Carpenter were enjoying a secret affair 10 years ago but it was tricky finding time alone together. So they had to snatch any opportunity they could. With his daughter – and Zoe's friend – Sarah out of the way, Mike told Zoe how pleased he was to have her to himself and they got down to enjoying sex on the sofa. But when Sarah stomped home early after a row with her boyfriend, they had to hurriedly get their clothes on. Phew! That was a close shave…
Get the What to Watch Newsletter
The latest updates, reviews and unmissable series to watch and more!