10 Years Ago This Week in the Soaps: May 6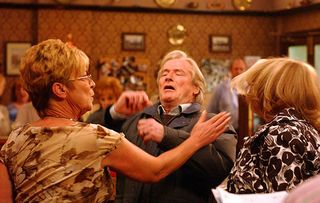 Remind yourself of all the soap drama that was happening in Corrie, Emmerdale, EastEnders and Hollyoaks 10 years ago this week. So much has changed yet so much is the same!
Deirdre was slap happy with Denise in Corrie, Bob's life was like a 99 without the flakes…or the ice cream in Emmerdale, Tanya accused Max of cheating on her in EastEnders and Josh was bricking it in Hollyoaks after a fight with Mike.
Corrie
Leanne Battersby (Jane Danson) has never enjoyed an uncomplicated love life… And sometimes her problems have been of her own making, such as this time 10 years ago, when she was dating Liam Connor while she worked as a prostitute. Her mum Janice warned her to give up the game, but she didn't. So Leanne got a shock when the next client she met at a hotel turned out to be Liam's brother, Paul (Sean Gallagher)! Awkward! He paid her £50, but all they did was talk… Neither said anything later, though, when they saw each other in the Rovers when Leanne was with Liam and Paul was with his wife, Carla.
Deirdre Barlow (Anne Kirkbride) had to put up with a lot from her on-off husband Ken (William Roache). The son of a postman, Ken liked to deliver buckets of hypocrisy… He expected his family to behave one way while he chased women around Manchester. At this time 10 years ago, one of those women – Denise Osbourne (Denise Black) – had reappeared with Ken's son Daniel and her presence was making Deirdre's life miserable. Ken had moved in with Denise to get to know Daniel better, so it was too much for Deirdre when he appeared in the pub with his other woman. In a rage, Deirdre flew at Denise and gave her a slap!
Emmerdale
Bob Hope (Tony Audenshaw) was on the bad side of wife Viv this time 10 years ago and had left home, telling no one where he was going. He set himself up selling ice cream from a van and that's when he met the ghost of homeless man Errol Michaels, who persuaded Bob to return home. But the ghostly appearance of Errol wasn't the really big talking point, it was who played him… Actor Tony Booth is the father of Cherie Blair, which made him the father-in-law of the then Prime Minister Tony Blair.
Here we have another example of Dingles 'keeping it in the family'… Debbie (Charley Webb) was in a relationship with Viv Hope's son Scott at this time. But Scott had gone away, leaving Debbie free to play. She wanted to buy the village garage, so she asked Eli Dingle (Joseph Gilgun) to pose as Scott at the bank, to help her secure a loan. Everything went to plan and Debbie and Eli celebrated with a few drinks, which led to their criminal relationship becoming something much more passionate!
EastEnders
Ian Beale (Adam Woodyatt) was the victim of another Phil Mitchell prank 10 years ago, after the two of them butted heads a few times over the amount of inconvenience Ian felt was being caused by Phil's builders. Ian called the council to complain but Phil was sneakier – and funnier… He had his builders put up a wall that blocked Ian's gate and Ian was furious. All in all, though, it was just another brick in the wall that had long existed between Ian and Phil.
Tanya Branning (Jo Joyner) had been suspicious of husband Max (Jake Wood) for a while, convinced he was having an affair. And he was… with his daughter-in-law Stacey. But Tanya thought Max was playing away with Carly Wicks (Kellie Shirley), and that's what she accused them both of when she attacked Carly!
Hollyoaks
Good cop Calvin Valentine was shocked 10 years ago, when girlfriend Louise Summers (Roxanne McKee) told him she was pregnant. Calvin quickly got on board with the baby planning… but his bubble was burst when Warren Fox told him he could be the baby's daddy. Calvin angrily confronted Louise, who didn't know if Calvin or Warren was the father. Calvin desperately wanted it to be him ad believed Louise when she said Warren was lying. "She was the perfect woman to him," Calvin actor Ricky Whittle said at the time. But not for long…
Mike Barnes (Tony Hirst) still had daughter Amy to care about 10 years ago – and he cared a lot. Mike was unhappy about Amy's relationship with Josh Ashworth (Sonny Flood) and, convinced they were sleeping together, Mike chased Josh. He was in a violent rage and terrified Josh defended himself by hitting Mike over the head with a brick. Now Mike had Josh where he wanted him… He told the lad to dump Amy or he would report him to the police for assault.
Get the latest updates, reviews and unmissable series to watch and more!
Thank you for signing up to Whattowatch. You will receive a verification email shortly.
There was a problem. Please refresh the page and try again.