10 Years Ago in the Soaps: Week Beginning November 11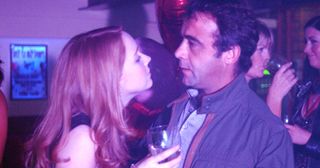 10 Years Ago in the Soaps this week... Remind yourself of all the soap drama that was happening in Coronation Street, Emmerdale, EastEnders and Hollyoaks
10 Years Ago in the Soaps - Illicit kiss in Corrie for Claire Peacock (Julia Haworth), a baby for Honey Mitchell (Emma Barton) in EastEnders, not-so-sweet revenge for Debbie Dingle (Charley Webb) in Emmerdale and fire terror for Louise Summers (Roxanne McKee) in Hollyoaks.
Coronation Street
Claire Peacock was trying to prove she was serious about splitting from husband Ashley and reckoned braving a singles' night was the way to go. She got very drunk to cover her nerves and when she phoned Sally Webster, Sally sent Kevin (Michael le Vell) to the club to pick her up. Claire was very glad to see Kevin, so glad she called him her knight in shining armour and tried to kiss him! By the time they got back to the Street, she'd sobered up enough to feel mortified… As for Kevin? Well he was used to attracting the ladies!
The course of true love hadn't run smooth for Jamie Baldwin (Rupert Hill) and Violet Wilson (Jenny Platt) but Violet was delighted when Jamie decided against going out on the pull to stay behind at The Rovers chatting to her. At the end of the night Jamie leant over the bar to kiss her goodnight and the old spark between them was reignited. Later they admitted they had never stopped loving each other and, though Violet was worried about trusting Jamie after his affair with his step-mum, they agreed to give their relationship another go.
EastEnders
Trouble was brewing for Jase Dyer (Stephen Lord) and it wasn't going to be pretty. Honey Mitchell's baby was due, she was staying above The Queen Vic after she and Billy were chucked out of their flat, and a terrifying gang were coming in search of Jase… As the gang stormed the pub it escalated into a vicious fight in the barrel store as Jase was beaten to the ground. And it was at that moment, brave Honey entered the fray to help her friend. She too was knocked to the ground and, as the gang sped off, Jase rushed her to hospital where her baby was born. It was touch and go for the tot… but baby William Mitchell survived.
Steven Beale (Aaron Sidwell) just wanted to say 'sorry' but coming face-to-face with the man who had put a bullet in her was the last thing Jane Beale (Laurie Brett) wanted. Jane was just making herself a cup of tea when Steven showed up after checking out of the clinic where he was being treated. Jane told him to leave and frantically tried to dial for help, but Steven grabbed the phone. Jane was terrified, but husband Ian was on the way. He warned Steven to get away from Jane and chucked him out, returning to comfort her. Steven's granny Pat confronted Ian for turning Steven out onto the street, prompting Ian to finally tell her the terrible truth - Jane hadn't been in hospital having her appendix out, Steven had shot her…
Emmerdale
Eli Dingle (Joe Gilgun) was dead jealous when he heard that Debbie Dingle (Charley Webb) had found herself a nice young man. So when he saw the new guy, Sean Bywater (Darren Kuppan) with what he assumed were his wife and kids he wasted no time in telling Debbie she was being strung along. Debbie was shocked and immediately vowed revenge, taking a crow bar to Sean's sports car then getting it crushed. When Sean returned to see his wrecked car, he stunned Debbie into silence by revealing that his wife had died, the woman was his sister and the kids were hers. That was the end of what could have been a beautiful relationship so Debbie decided to get it together with Eli!
Jonny Foster (Richard Grieve) and Paul Lambert (Matthew Bose) were meant to be getting married, so why are they looking so unhappy? Because Paul has just confessed to sleeping with Gray Sinclair while Jonny was off visiting his mum. Jonny was devastated and told Paul their relationship was over, while Paul struggled with Gray flippantly saying their fling was meaningless. Eventually after some grovelling by Paul, Jonny gave him another chance - then confronted Gray in The Woolpack toilets and punched him. Richly deserved!
Hollyoaks
Trust was a big issue between Warren Fox (Jamie Lomas) and Louise Summers (Roxanne McKee) right up to the surprise engagement party Warren threw for them. But when Warren cast doubts on her faith in him, Louise left the party in tears and headed over to Evissa, just as a vengeful Ste Hay - who hated Warren- was lighting a match and setting fire to the place, unwittingly trapping Louise in the flames…
It was Calvin Valentine (Ricky Whittle) who pulled Louise from the fire, giving her mouth to mouth as he battled to save his ex-girlfriend. But at the hospital, instead of being grateful, Warren was insanely jealous of Calvin and, when Calvin insinuated Warren knew who was behind the fire, he lost it and attacked him. Warren, though, was pretty sure he knew who had started the blaze - Ste. And he wasn't wrong!
Get the What to Watch Newsletter
The latest updates, reviews and unmissable series to watch and more!