10 Years Ago in the Soaps: Week Beginning September 16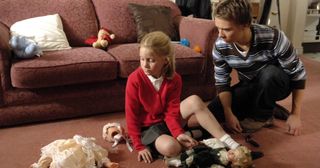 Remind yourself of all the soap drama that was happening in Coronation Street, Emmerdale, EastEnders and Hollyoaks 10 years ago this week!
In the soaps 10 years ago, David Platt (Jack P Shepherd) put Bethany's life in danger in Coronation Street, Sean Slater (Rob Kazinsky) was ready to murder Deano Wicks (Matt Di Angelo) in EastEnders, Debbie Dingle (Charley Webb) got into a fight in Emmerdale, and Clare Devine (Gemma Bissix) was drowning in Hollyoaks. Only she didn't…
Coronation Street
David Platt was always a loose cannon but he sunk to a new low when he stashed a mate's ecstasty tablets in one of his niece Bethany's dolls. Then he was horrified when he found the head off the doll and the tablets strewn on the floor, with one missing! When Bethany started convulsing, her mum Sarah (Tina O'Brien) called an ambulance and Bethany was rushed to hospital where, as she fought for life, David finally confessed that she had taken an E. Needless to say, his family were furious with him!
Tyrone Dobbs (Alan Halsall) was suspicious that the Duckworths' grandson Paul Clayton (Tom Hudson) was conning them out of their money. But Paul always managed to keep one step ahead of Tyrone and left Ty shamefaced when he produced a vibrating recliner as a gift for the couple. Vera (Liz Dawn) looked less than convinced when she tried it out!
EastEnders
Deano Wicks (Matt Di Angelo) planned to do a runner from Walford but Sean Slater (Rob Kazinsky) had other ideas. He wanted revenge on Deano for framing him over Patrick Trueman's attack and cornered Deano in the underground toilets and threatened him violently. Deano was terrified - Sean was not a man to mess with!
Ian Beale (Adam Woodyatt) was becoming increasingly paranoid about the messages he was supposedly receiving from his ex - and long dead - wife, Cindy. He was nearly hit by a speeding car, a coffin turned up in his garden, and 70 kilos of bacon were delivered to the cafe. Then he got a message which led him to a block of derelict flats where he was in for a huge shock…
Emmerdale
A row over a stolen necklace led to a furious fight between Debbie Dingle (Charley Webb) and Lexi Nicholls (Sally Oliver). As the brawl spilled over into the street, Lexi punched Debbie and grabbed the necklace, which fell out of her hand and slipped down a drain. So much for the spoils of crime!
Gray Sinclair (Christopher Villiers) was in the depths of despair over his mother Rosemary's behaviour and Paul Lambert (Matthew Bose) was just trying to comfort him. But Gray had had a few too many drinks and moved in for a kiss, asking Paul to spend the night with him. Paul refused, made his excuses and left. But he was shocked by the strength of his own feelings for Gray…
Hollyoaks
Clare Devine (Gemma Bissix) was out for revenge after Justin Burton tried to kill her and kidnapped his girlfriend, Katy Fox. She headed to the docks where she told Warren Fox (Jamie Lomas) and Max Cunningham (Matt Littler) to kill Justin, before speeding off again with Katy.
In the dramatic car chase that followed, Clare skidded to avoid some bikers and plummeted over a quarry into water below. Katy was rescued but no one tried very hard to save Clare and she was presumed dead. But she wasn't done yet. Far from it…
Get the latest updates, reviews and unmissable series to watch and more!
Thank you for signing up to Whattowatch. You will receive a verification email shortly.
There was a problem. Please refresh the page and try again.