10 Years Ago in the Soaps: Week Beginning September 9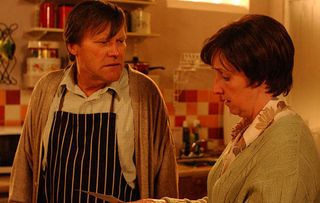 Remind yourself of all the soap drama that was happening in Coronation Street, Emmerdale, EastEnders and Hollyoaks 10 years ago this week!
Hayley shocked Roy with a secret in Coronation Street, Nicola's return to Emmerdale caused problems, Ian was under fire in Enders and Craig was outed in Hollyoaks
Coronation Street
When Roy and Hayley Cropper got together, Roy (David Neilson) thought he knew all there was to know about Hayley (Julie Hesmondhalgh), including the fact that she used to be a man called Harold. But this week 10 years ago, Hayley dropped another bombshell on Roy… When she was still Harold, she fathered a son called Christian Gatley (Andrew Turner). Roy was speechless. He was also furious as it meant Hayley had lied to him about being a virgin. After giving Hayley the silent treatment for a couple of days, Roy said they would be okay as long as she didn't tell any more lies. But Hayley went straight out and lied to Christian, telling him his father was dead she was his father's sister… And Roy was angry all over again. He was still furious when Christian came to visit Hayley in the flat above the café, where they swapped photos…Hayley got a picture of Christian as a toddler and gave him a photo of herself when she was Harold. It was a bittersweet moment for Hayley, who had tangled herself in a web of deception and knew that honesty was the only way out for her…
David Platt's big mouth and bigger temper have always got him into trouble and this was one of those times… David (Jack P Shepherd) was in a major strop because mum Gail had told him he had to start paying rent – and his gran, Audrey, also his boss, was deducting it from his wages. David disappeared and, overnight, was beaten up by some thugs. But he told the police his mum had done it! He did eventually tell the truth and was charged with wasting police time. David then wasted no time upsetting his family further by shaving the hair off one of little Bethany's dolls. Gail is really worried about her son's twisted mind but David just won't talk to her…
Emmerdale
Nicola Blackstock (Nicola Wheeler) had left Emmerdale in disgrace more than a year ago, having destroyed her half-brother Paul Lambert's relationship with Ivan Jones. Now she was making a triumphant return, as Nicola De Souza, wife of business tycoon Donald De Souza, and she was ready to make her mark in the village… First order of business for Nicola was to regain control of her cleaning company, which David Metcalfe (Matthew Wolfenden) had taken over after she left. David turned to dirty tactics to try to fight off Nicola, but he was going broke and her husband had very deep pockets…
It was a long time coming, but Grayson Sinclair finally realised that his wife, Perdita "Perdy" Hyde-Sinclair (Georgia Slowe), wasn't mad but that his mother, Rosemary King (Linda Thorson), was very, very bad… She had been drugging Perdy and making her look crazy because Perdy couldn't have children and Rosemary wanted Grayson to be able to produce grandchildren. When he discovered the truth, Grayson threw his mother out and Perdy told the whole pub that Rosemary had poisoned her. With no one to turn to, Rosemary disappeared overnight.
EastEnders
It looked like David Platt had also got at Chelsea Fox's hair but, in fact, this is what Sean Slater's revenge looked like for Chelsea (Tiana Benjamin)… When Sean discovered he was arrested and held on remand for an assault on Patrick Trueman because of false statements from his bitter ex, Chelsea, and Deano Wicks, he was fighting mad. Out of prison, Sean wanted revenge – and he got it. In the dead of night, he sneaked into Chelsea's home using a stolen key and cut off her hair while she slept. Her nightmare began when she woken up the next morning and found her hair all over her pillow! It would be a long, long time before Chelsea slept soundly again. Deano didn't escape Sean's justice, either. His nightmare was the horrific stories Sean told him about what went on in prison, which is where Deano was headed for perverting the course of justice.
This time 10 years ago, Ian Beale (Adam Woodyatt) was receiving death threats. And, for a change, they weren't coming from his arch enemy, Phil Mitchell. Another mystery was the emails his daughter Lucy said she was getting from her mother, Cindy… As far as everyone knew, Cindy was dead. On the trail of who…or what…was haunting his family, Ian found himself inside the house of Cindy's sister, Gina, and staring down the barrel of her shotgun! She thought Ian was a burglar and told him she was expecting him. But she wasn't the person who was terrorising him…
Hollyoaks
Warren Fox (Jamie Lomas) was throwing his weight around, again and, again, it was Clare Devine (Gemma Bissix) who was his target. This time, Warren wanted to buy The Loft from Clare but she told him she wasn't selling. She felt brave, until Warren made a joke about people being pushed off balconies… After that, Clare felt shaken, but still couldn't resist winding Warren up with digs about his relationship with Louise Summers. Angry, Warren grabbed Clare and told her he would kill her. It was enough to convince her to sell.
There was nowhere left for closeted Craig Dean (Guy Burnet) to hide after his fiancée Sarah Barnes (Loui Batley) caught him in bed with John Paul McQueen – during their engagement party! John Paul had texted Sarah so she would catch him and Craig together and, after she did, she want back to the party in The Dog and told everyone. Craig was furious with John Paul for setting him up but John Paul was unapologetic, calling Craig a coward for refusing to be openly gay. By the end of this week 10 years ago, though, John Paul had got his man, even though Craig still had one foot in the closet.
Get the latest updates, reviews and unmissable series to watch and more!
Thank you for signing up to Whattowatch. You will receive a verification email shortly.
There was a problem. Please refresh the page and try again.