10 Years Ago This Week In The Soaps: April 29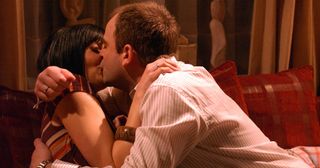 Remind yourself of all the soap drama that was happening in Corrie, EastEnders, Emmerdale and Hollyoaks 10 years ago this week! Doesn't time fly!
Corrie Back in the day, long before Steve McDonald (Simon Gregson) and Michelle Connor (Kym Marsh) tied the knot then dramatically broke up after Steve fathered baby Ollie with Leanne Battersby (Jane Danson), Steve was the one Michelle turned to when her family were driving her crazy. With the sexual tension sizzling between them, the couple kissed, but pulled apart before going further, both fearing they were taking advantage of the other. Big disappointment all round!
Deirdre Barlow (Anne Kirkbride) and husband Ken (William Roache) were always arguing about daughter Tracy, but on this occasion Deirdre pushed Ken too far. And when her interfering mum Blanche Hunt put her oar in too, Ken packed his case and walked out. Deirdre was gobsmacked when she came home to find him gone… and where he'd gone was round to see Denise Osbourne, mother of his son Daniel (Rob Mallard)!
Wherever Kelly Windsor (Adele Silva) went, trouble was never far behind, but it was Jimmy King's idea to go on the run, not hers, when they fled Emmerdale 10 years ago. Jimmy was worried about new evidence in the hunt for his dad Tom's murder while Kelly was due to go on trial for assault. They hadn't gone far before they had a change of heart and raced home, but Kelly was late in court so the judge adjourned the case for a few days and told Kelly she had to stay in custody to make sure she turned up on time.
Kelly was horrified!
Bob Hope was determined to give wife Viv the day of her dreams for the Christening of their twins. But with the costs spiralling out of control, he realised he didn't have the money to pay the caterers, florist and so on. As family and friends gathered at the font, Bob did a runner with Jamie in hot pursuit. Bob told Jamie he felt a failure and his family were better off without him. He did have the decency to send Viv a text saying 'I love you. I'm sorry. ' Not sure it really made up for her humiliation…
EastEnders
Max Branning (Jake Wood) was up to his neck in his passionate affair with Stacey Slater (Lacey Turner) while his son Bradley Branning (Charlie Clements) tried to convince himself that Preeti Choraria (Babita Pohoomul), not Stacey, was the girl for him. Max was jealous when he saw Stacey being driven home by a bloke in a flash car and later shocked to find her in his home, babysitting Abi for Tanya. Max told Stacey to leave Tanya alone, but Stacey warned him she was a lot smarter than he gave her credit for…
Bradley confided in Max that being with Preeti didn't feel the same as being with Stacey. But he overcame his doubts and spent the night with her… Dot had plenty to say about that next morning! She wasn't happy…
Carmel McQueen (Gemma Merna) fell in love with Albanian immigrant Aleksander Malota (Jon Lolis) and the pair couldn't keep their hands off each other. But just as they thought they had the bedroom to themselves, Carmel's sister Jacqui arrived home and threw a huge spanner in the works…
Justin Burton (Chris Fountain) fancied his chances with Katy (Hannah Tointon), a gorgeous new arrival in the village. He bet Sonny Valentine he could win her over and before long was flirting with her in Il Gnosh. But then he found out who she was related to… Warren Fox (Jamie Lomas)! Warren was thrilled to see his kid sister until she started asking awkward questions about his dodgy affairs, then decided he didn't want her hanging around Hollyoaks too long.
Get the What to Watch Newsletter
The latest updates, reviews and unmissable series to watch and more!