12 things you never knew about Coronation Street including which character swore first!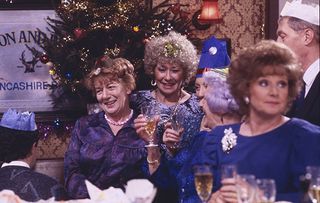 (Image credit: ITV/REX/Shutterstock)
Hilda enjoys a fabulous festive farewell in 1987
1. The most watched ever episode was Hilda Ogden (played by the late, great Jean Alexander) bidding a touching farewell to The Rovers (main picture). An astonishing 26.6 million people tuned into her saying goodbye on Christmas Day 1987.
2. The first words ever spoken on Coronation Street were: "Now the next thing you've got to do is get a sign writer in," which was said by shop owner Elsie Lappin as she gave the shop to Florrie Lindley.
3. Potty-mouthed Ken Barlow was the first character to ever swear on the soap. Naughty Ken (pictured below) used the word "bloody" in 1961, attracting 83 complaints!
4. The Americans attempted their own version of Coronation Street called Peyton Place, which started in 1964 and ended in 1969.
5. Betty Driver first auditioned for the role of Hilda Ogden in 1964 before being persuaded instead to go for the role of Betty Williams – a role she'd play for 42 years.
6. Joan Collins, Peter Kay, Cilla Black, Honor Blackman, Martin Shaw and Prunella Scales are just some of the faces to have turned up in Corrie.
7. The first ever episode was aired at 7.pm on 9th December 1960.
8. Psycho director Alfred Hitchcock (below) visited the set in 1964, popping his head through the doors of The Rovers.
9. Peter Barlow has been played by seven different actors, including Ken Barlow actor William Roache's son Linus Roache, who took the part from 1973-75. Chris Gascoyne currently plays the role.
10. It's hard to believe but Emily Bishop (Eileen Derbyshire) poured pints in The Rovers between 1968 to 1970.
11. The Queen watches Corrie! Barbara Knox, who plays Rita, said when she was made an MBE by The Queen in 2010, Her Majesty revealed that she enjoyed the soap.
12. Coronation Street was originally shown twice a week. It changed to three times a week in 1989, four times a week in 1996, five times a week in 2002 and six times a week from 2017!
Pics: ITV/REX/Shutterstock
Get the latest updates, reviews and unmissable series to watch and more!
Thank you for signing up to Whattowatch. You will receive a verification email shortly.
There was a problem. Please refresh the page and try again.