14 Surprising Gogglebox Facts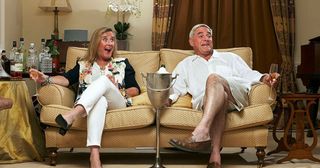 We take you behind the cameras and into the secret world of Channel 4's hit reality show, which is back on Friday, September 23
1. There are no auditions
Gogglebox creators Stephen Lambert and Tania Alexander knew they didn't want fame-hungry participants when they started the show back in 2013.
"Everybody on Gogglebox has been found and persuaded to be on the show," says Stephen. "I think that's the key to why they are likeable and why the show works, because we get to know these people. We've never advertised for people on Gogglebox."
"I knew from the off that I didn't want to put people on television who wanted to be on television," explains Tania.
2. Talent spotting on the street
The Gogglebox creators have previously revealed they do a lot of "street casting". Well-loved elderly couple June and Leon were found in a bridge club, while Stephen and Chris were discovered at their local hairdressers, when a member of the show's crew walked in and asked if anyone wanted to be on television!
3. Leon's loose lips
Leon says his wife June usually tells him off when filming has finished for being rude on the show and was especially furious when he called Nigel Farage a d***head. But the pensioner is a hero to his grandkids, who were delighted when he farted on television.
4. Spare room studio
The film crews set up their gear in a separate part of the house, such as a spare room or kitchen, so they don't distract the participants. The team use two remote cameras known as 'hot heads', one to get broad shots and the other to zoom in for more detailed reactions.
5. Binge-viewing
Most family's film over two nights, but some like to cram it all in in one night. A show insider once revealed that the Michaels family from Brighton set aside a whole night for Gogglebox and sometimes film from 5pm through to 3am!
6. Tight turnaround
Each episode is usually made in two days. Shooting starts on the Friday and teams film through the weekend, spending hour after hour assessing the material.
"Most of it hits the floor," Tania Alexander says in an interview with TV Times. "You get to see the gold – and the craft happens over the last couple of days before it goes out on the Friday. It's made mainly on Tuesday afternoon and Wednesday all the way through the night. We have a viewing with Channel 4 on Thursday afternoon, we make a few tweaks and then it's locked."
7. Porn version!
A seedy late night adult channel created a sordid parody version of the show, named Gobblec****. In a sick twist, actors playing a host of our favourite gogglebox stars sit in the sofa and watch adult films. Let's just say things quickly go downhill from there!
8. Paid in takeaways
Despite rumours to the contrary, Channel 4 doesn't pay Gogglebox participants a wage, but they are offered remuneration and expenses in other areas. Indeed a source has revealed that food and drink, including takeaways, are all paid for during filming. Which might explain why a few families aren't shy about getting stuck in!
9. Steph and Dom's disabled son
The posh couple told The Times that when their eldest son, Max (who is now a teenager), was a couple of months old, they noticed he was making 'little jerky movements'.
"We took a video of him and showed it to the GP," says Steph. "The doctor immediately referred us to the paediatric consultant at the local hospital who said, 'I think we have a problem and I need you to come in first thing Monday morning. Bring a bag.'"
It soon transpired that Max was suffering from autism and epilepsy, changing the family's lives forever. The teenager now spends term time in a special residential school, but, in the holidays, he spends his time with his mum and dad, as well as his younger sister, Honor.
"We drink socially to enjoy ourselves," explains Steph. "But when the kids are at home, it is family time. They are the most important people to us in the world."
10. Stay with Steph and Dom!
Steph and Dom run a B&B in Sandwich, Kent, called The Salutation and guests the couple often join guests for a few drinks on Friday and Saturday nights. Rooms start at £160 per night, but if you want to book a stay, you'll have to book well in advance because it's very popular.
11. Gogglebox goes international
The USA has it's own version of Gogglebox - and they're not the only other country to get in on the action. Australia, Canada, China, Ukraine, Ireland, Italy, Poland, Slovenia, Israel, Germany, Finland, Norway, Belgium and France also have versions.
12. Don't let the TV die!
The Slovenian version of the show is called God, Please Don't Let the TV Die, which is the name of a popular song in Slovenia.
13. Gogglebox Goths
Viv Woerdenweber runs a goth shop called Twilight, and her husband Ralf is a drummer in heavy metal band Citizen Zen. Their daughter Eve is currently studying drama and works as a tattoo artist out of her mum's shop, but broke up with longterm boyfriend Silent Jay last year with Jay leaving the show during the fifth series.
14. Silent Jay speaks
Silent Jay said one word during all his time on Gogglebox. It was during The X Factor and it was the name of one of the finalists: "Andrea".
Gogglebox continues on Channel 4 on Friday night
Sean has been writing about all things telly for over 10 years and in that time he's been lucky enough to interview stars like Ian McKellen, Tom Hardy and Kate Winslet. His favourite shows are The Great British Bake-Off, People Just Do Nothing and Succession and in his spare time he enjoys drinking tea, doing crosswords and watching football.
Get the latest updates, reviews and unmissable series to watch and more!
Thank you for signing up to Whattowatch. You will receive a verification email shortly.
There was a problem. Please refresh the page and try again.