Box Set Binge: Being Human, Goliath and Schitt's Creek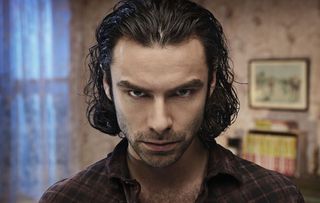 (Image credit: TOUCHPAPER)
Stuck for something to watch this weekend? Sit back and enjoy these streaming stand-outs Being Human (BBC iPlayer), Goliath (Amazon Video) and Schitt's Creek (Netflix)...
Have a peek at these top shows available on streaming services BBC iPlayer, Amazon Video and Netflix...
In the years before he become a national heart-throb by bearing his chest and swinging his scythe in Poldark, Aidan Turner was turning on the charm as alluring vampire Mitchell in BBC Three supernatural flatshare drama Being Human. Sink your teeth into back-to-back episodes from all five series on streaming service BBC iPlayer now.
George Sands (Russell Tovey) and John Mitchell (Aidan Turner) have a deep friendship. They also have a deep secret that they keep hidden from society at large: George is a werewolf and Mitchell is a vampire. Both are attempting to control their supernatural urges – George by managing his monthly transformations and Mitchell by abstaining from blood-drinking.
When the pair move into a new home together, they discover they have an unexpected housemate – the ghost of a young woman in her mid-twenties, Annie Sawyer (Lenora Crichlow). Annie also has to come to terms with her supernatural status, having died falling down the stairs of the house and not passing on to the afterlife.
As the series progresses, the trio have to deal with living together under one roof, taking ownership of their unique 'conditions', forming new relationships, and confronting threats from sinister supernatural and human foes. Life is full of twists and turns when you're undead.
There was a time when Billy McBride was considered one of the best trial lawyers ever. Now a broken man, he's more likely to be found propping up the bar than standing in a courtroom. But this washed-up attorney is about to get a chance for redemption – and revenge. Catch the first season of US legal drama Goliath on Amazon Video now…
https://www.youtube.com/watch?v=2lFfb9mXmOU
Billy McBride (Billy Bob Thornton) gained his formidable reputation helping to establish one of the world's most powerful law films. But his wayward behaviour – and a spectacular clash with one of his key associates – saw him ousted from his prominent position.
The disgraced, down-at-heel McBride gets a chance to redeem himself, however, when he agrees to pursue a wrongful death lawsuit against a client represented by his former firm.
The odds are stacked against McBride and his ragtag team in this big courtroom battle. He may be down, but he's definitely not out…
Canadian comedy Schitt's Creek opens with agents from the Revenue department raiding the home of the wealthy Rose family and carting off their personal belongings. As video store magnate Johnny (comedy stalwart and frequent Christopher Guest collaborator Eugene Levy) tries to take in the news that his shifty business manager has bankrupted the family, his washed up soap star wife, Moira (the always entertaining Catherine O'Hara) frets about the safety of her extensive wig collection.
The Rose couple, and their adult children David (Daniel Levy, who co-created the series with his father, Eugene) and Alexis (Annie Murphy), are told that there's one asset the Government has allowed them to retain - the small, backwater town Johnny bought his son as a joke in 1991: Schitt's Creek.
https://www.youtube.com/watch?v=W0uWS6CnC2o&list=PLbscHhHk_mXTNNTR-Xi5YuB3mXB87AUnF
The first series of Schitt's Creek, which is available now on Netflix, follows the embittered Rose family as they relocate to the town and adjust to life in their new home - two adjoining rooms in a struggling motel that 'smells like a gym bag'. Socialite Alexis and snarky David struggle to leave their pampered existences behind them, and their once-wealthy parents don't fare much better.
Will Johnny find a buyer for the town, boosting the family's finances enough to start afresh? Or are the Roses stuck in Schitt's Creek without a paddle or any other means of moving on for the foreseeable future?
Get the What to Watch Newsletter
The latest updates, reviews and unmissable series to watch and more!