Box Set Binge: Fleabag, Designated Survivor and The Americans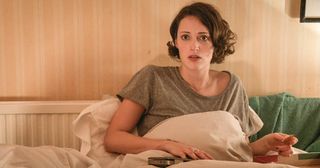 (Image credit: BBC/Two Brothers Pictures Ltd.)
Stuck for something to watch this weekend? Sit back and enjoy streaming stand-outs Fleabag (BBC iPlayer), Designated Survivor (Netflix) and The Americans (Amazon Video)
Have a peek at these top shows available on streaming services BBC iPlayer, Netflix and Amazon...
Explicit, direct and funny, comedy series Fleabag is now available as a box set on BBC iPlayer. The series, which premiered on BBC Three earlier this year, follows the misadventures and often self-inflicted misfortunes of uninhibited 30-something-year-old Fleabag (played by Phoebe Waller-Bridge, who created and wrote the comedy)…
https://www.youtube.com/watch?v=IHG0SwXNxSg
Londoner Fleabag, who runs a struggling guinea-pig themed cafe where she charges £12.55 for a cheese sandwich, splits with her boyfriend after a dodgy incident involving President Obama. As she attempts to navigate her way through life, we see her make a faux pas at a feminist lecture with her lawyer sister (Sian Clifford), encounter a toothy new love interest, experience a female-only silent retreat, and cause a scene at the Sex-hibition of her artsy and arched stepmother (Olivia Colman in superb comic form).
The first episode of Kiefer Sutherland's new political drama is available on Netflix now, with remaining episodes available each week on the streaming service. Watch them as they become available or save them for a series binge later on...
https://www.youtube.com/watch?v=N_f1v0Nx5Sw
Kiefer Sutherland plays Tom Kirkman, the US Secretary of Housing and Development who has been classed 'designated survivor' - the lone member of the Cabinet held at a secure location while major Congressional meetings take place in case a catastrophic event were to wipe everyone out.
Kirkman is relaxed, sat with his wife (Natascha McElhone) watching the President's State of the Union address on TV, when suddenly the live feed cuts out. As the screen crackles in front of him and special agents burst into the room, Kirkman opens the shutters on his window to see the awful truth with his own eyes – a fiery explosion has completely destroyed the Capital Building.
With the President, and his entire Cabinet, killed in the blast, Kirkman is immediately sworn in as the new POTUS. He now has to keep his country, and his family, from falling apart...
Two Soviet spies posing as an American married couple face a battle to keep their true identities hidden from their own children and outsiders in 1980s-set drama The Americans. Catch the first four series on Amazon Video now...
The action centres on KGB agents Nadezhda (Keri Russell) and Mischa (Matthew Rhys), who are living as American couple Elizabeth and Philip Jennings in a suburb of Washington DC as they spy on the US Government. Nothing seems out of the ordinary about the Jennings - even their own children, Paige and Henry, don't know their secret.
When the highly trained Soviet spies are tasked with a series of seemingly impossible missions and their new neighbour turns out to be an FBI agent, will their true identities be exposed?
Get the What to Watch Newsletter
The latest updates, reviews and unmissable series to watch and more!