David Brent's 10 Funniest Scenes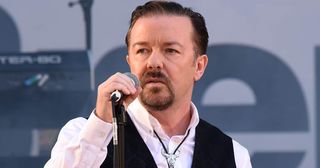 (Image credit: David Fisher/REX/Shutterstock)
As David Brent: Life on the Road opens in cinemas nationwide, look back at the funniest, cringiest moments of Ricky Gervais's comic creation
David Brent's back and, this time, the former Wernham Hogg general manager is out of The Office and out on the road both as frontman for his band Foregone Conclusion and a sanitary products sales rep.
But before the country gets caught up in this new chapter in the life of Ricky Gervais's brilliant comedy character, we thought we'd have a look back at the funniest moments of David Brent – 'a friend first, boss second, probably an entertainer third'.
1 THAT Dance
https://www.youtube.com/watch?v=_au0UUHI2aI
Possibly the most iconic scene from The Office, Brent shows that you can indeed fuse 'Flashdance with some sort of MC Hammer shit'.
2 Free Love Freeway
https://www.youtube.com/watch?v=sEtQj9wuqhs
On a staff training day, Brent rushes home to get his guitar so that he can entertain his employees with the songs he sang with his then band, Forgone Conclusion. Free Love Freeway went on to become a hit single featuring Noel Gallagher no less!
3 The Real Quiz
https://www.youtube.com/watch?v=P-2BFjSMVsU
Finchy's annoyed when, after winning Wernham Hogg's quiz night six years running, he loses – not helped when Brent thinks that the former Cuban leader is called Fray Bentos
4 A Picture of David Brent
https://www.youtube.com/watch?v=9fOMM2SqSGM
New employee Donna is stunned then amused to find a circulating picture of Brent with 'nice boobs'...
5 Redundant
https://www.youtube.com/watch?v=zIqYmtkOrXI
After Brent is let go, he stands up to reveal he's dressed as an ostrich from his waist down. To make matters worse, he has to go outside and do an interview...
6 If You Don't Know Me By Now
https://www.youtube.com/watch?v=JB0kKi5p8Ho
After spending 10s of thousands of pounds releasing a debut single after his redundancy pay off, Brent is humiliated when he returns to Wernham Hogg where Gareth (Mackenzie Crook) is now in charge
7 The Interview
https://www.youtube.com/watch?v=rPu_d4SSOPk
Brent is keen to impress Karen, who he's interviewing for the post of his new secretary. He rather oversteps the mark...
8 Simply The Best
https://www.youtube.com/watch?v=b44rAzY3IGU
Brent's final moments of his motivational speech leaves everyone... well, speechless.
9 Role Playing
https://www.youtube.com/watch?v=h-wfO6_eq-A
When Brent has to pretend to be a complaining customer, his outburst leaves the staff trainer exasperated
10 What's An Elf?
https://www.youtube.com/watch?v=qAnIOCIBFR4
After making one his forklift truck drivers redundant, there are burning questions to be asked regarding midgets, dwarves and elves...
David Brent: Life on the Road is in cinemas nationwide from Friday, August 19
Get the latest updates, reviews and unmissable series to watch and more!
Thank you for signing up to Whattowatch. You will receive a verification email shortly.
There was a problem. Please refresh the page and try again.