The God Squad – the top 10 TV clergy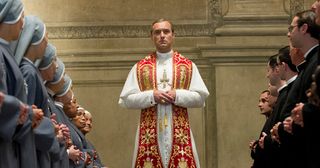 Jude Law is about to make his debut as a smoking, drinking American pope in Sky Atlantic's The Young Pope. But has he got a prayer against our top 10 clerics?
Jude Law is about to make his debut as a controversial American pope in The Young Pope (Sky Atlantic HD, Thursday, October 27) so we scanned recent TV history to choose the clerics we think make the top 10 men and women of God. Do you agree?
10 Father Peter Clifford (Stephen Tompkinson) – Ballykissangel
Father Clifford was the classic conflicted priest, torn between dispensing God's word to the whimsical folk of Ballykissangel and his unpriestly feelings for Assumpta Fitzgerald (Dervla Kirwan) in the hit '90s BBC1 series. Stephen Tompkinson played Father Peter with wide-eyed boyish charm.
9 Pope Alexander VI (Jeremy Irons) – The Borgias
Oscar winner Jeremy Irons played the 'fornicating' Pope Alexander VI with calculating, creepy relish in Sky Atlantic's libinous 16th-Century saga, The Borgias.
8 Brother Cadfael (Sir Derek Jacobi) – Cadfael
Derek Jacobi played the medieval monk Cadfael, who moonlighted as a mystery-solving detective, much to the fury of his ecclesiastical superiors. The ITV series ran for four series in the mid-90s and featured a stellar cast that included the likes of a fresh-faced Anna Friel.
7 Billy Mayhew (Daniel Brocklebank) – Coronation Street
It's a measure of how far TV has come that Corrie cast Daniel Brocklebank as vicar Billy Mayhew, the boyfriend of Sean Tully who became the on/off lover of Todd Grimshaw. Billy's torrid private life was soon exposed and he was defrocked.
6 Gogglebox's Kate Bottley
Real-life fluffy-slippered vicar Kate Bottley became an unlikely celebrity after appearing on Channel 4's hit show Gogglebox. She admits she only started going to church in Sheffield because she fancied the local vicar's son, violin tutor, Graham. Kate married Graham 22 years ago and he too joins her on the sofa of their Nottingham home as they continue to give their views on the week's telly.
5 Father Ted (Dermot Morgan)
Every vicar's cross is the heaviest! No more so than when the Irish Catholic priests were sent to Craggy Island as punishment for past misdemeanours.
Father Ted Crilly (the late Dermot Morgan) was sent to the island for financial impropriety, while Father Dougal McGuire (Ardol O'Hanlon) did something referred to as the 'Blackrock Incident' and Father Jack Hackett (Frank Kelly) was exiled for his drinking and womanising. The hit Channel 4 sitcom wasn't about religion, says writer Graham Linehan, but 'about three people who happened to be priests'.
4 Reverend Ashley Thomas (John Middleton) – Emmerdale
Poor Ashley... Never has a TV cleric suffered so many indignities as Ashley Thomas, from homelessness to cot death and most recently, Alzheimer's disease. John Middleton is soon to bow out of Emmerdale as the former vicar, but not before he suffers more for his faith (or, former faith).
3 Rev Sidney Chambers (James Norton) - Grantchester
Is there nothing James Norton can't play? In recent times he's effortlessly switched between a heroic Russian nobleman (War & Peace), a psychotic killer (Happy Valley) and a vicar with a sideline in detective work (Grantchester) and he's been believable in all roles!
2 Rev Adam Smallbone (Tom Hollander) – Rev
Tom Hollander was exquisite as Adam, the beleaguered vicar of inner city London parish, St Saviour's, in the Bafta-winning BBC2 sitcom Rev. Adam had to negotiate a wacky group of parishioners while keeping the financially doomed church afloat, as well as fight the temptations of a certain primary school teacher, Lucy Liemann (Ellie Patmann). That he did give in just made the series all the more real. Rev featured some outstanding cameos, including Ralph Fiennes as the Bishop of London. 1 Rev Geraldine Grainger (Dawn French) – The Vicar of Dibley
Who else could be number one? Dawn French turned the irreverent, hilarious Geraldine Granger into a TV icon when she starred in The Vicar of Dibley for six series from 1994, two years after the Church of England green-lit the ordination of female vicars. Numerous specials followed, along with multiple comedy awards. The series is a feature of just about every Best British Sitcom list.
Get the latest updates, reviews and unmissable series to watch and more!
Thank you for signing up to Whattowatch. You will receive a verification email shortly.
There was a problem. Please refresh the page and try again.