Whatever Happened To Your Favourite '00s TV Stars?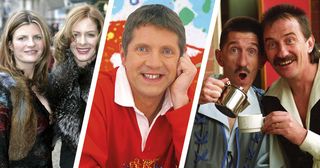 Ever wondered what happened to the TV stars of the 2000s? Some have taken some crazy career turns, including buying a wildlife park, starting an underwear company and performing in a heavy metal band!
For every Ant & Dec, Chris Evans or Fearne Cotton, there's another Noughties TV star that everyone seems to have forgotten about. But not any more! Here are some big TV personalities from the last decade and what they're up to now...
Trinny & Susannah
WHO: Sharp-tongued fashion advisors, Trinny Woodall and Susannah Constantine, from What Not To Wear.
NOW: After leaving What Not To Wear in 2005, the pair have been working around the world, and have done makeover shows in numerous countries such as Israel, Poland, Norway and Sweden and most recently Finland and Germany.
Katy Hill
WHO: Best known for presenting numerous shows, including Blue Peter.
NOW: Has put down the sticky-back plastic, and now hosts her own lifestyle and parenting blog and co-presents Heart Radio's Breakfast show in the Four Counties region with fellow ex-Blue Peter presenter, Stuart Miles.
Cat Deeley
WHO: Presented shows including SMTV Live, CD:UK and Fame Academy.
NOW: Moved to America in 2006 and has been a big hit, presenting the popular US version of So You Think You Can Dance for the last 10 years! She married Irish comedian Patrick Kielty in 2012.
Neil Buchanan
WHO: The always cheery Art Attack presenter.
NOW: With Art Attack ending in 2007, Buchanan left the world of TV to...play in a heavy metal band! Marseille are formed of Buchanan's long-term friends and have released four albums! No word on whether The Head is part of the line-up.
Carol Smillie
WHO: Smiley, smiley, Carol Smillie! Wheel of Fortune and Changing Rooms presenter.
NOW: Started her own underwear business, DiaryDoll, with ex-tennis player, Annabel Croft. The underwear is designed for women during periods, and have been a huge success.
'Nasty' Nick Bateman
WHO: Nick Bateman, known by his nickname 'Nasty Nick', which he earned following his treacherous antics in the Big Brother house in 2000.
NOW: Having made various Panto appearances, Nick moved to Australia in 2013 to work as a writer and broadcaster. He runs a personal blog, titled 'Big Brother Veteran'.
Linda Barker
WHO: Changing Rooms presenter and 60 Minute Makeover designer.
NOW: Finished third in 2013 series of Splash! and now writes a weekly design page in the Sunday Express.
Brian Dowling
WHO: Irish TV and radio presenter who rose to fame after winning the second series of Big Brother.
NOW: After admitting he felt 'embarrassed' being replaced by Emma Willis as Big Brother presenter in 2013, Brian has been presenting the game show Sitting on a Fortune in Ireland since 2014.
Anna Ryder Richardson
WHO: Designer on Changing Rooms, House Invaders and Staying Put.
NOW: Bought a wildlife park with her husband in 2008, but were later fined £100,000 in 2012 for health-and-safety violations when a child and mother were hurt by a falling tree branch. Continues to run The Nature Foundation in Wales.
Gary Rhodes
WHO: Everyone's favourite spiky-haired TV chef Gary Rhodes!
NOW: The spiky hair is gone as are all of his British restaurants, although he continues to operate three in Dubai and Grenada.
Tommy Walsh
WHO: Presenter and builder on '00s favourite, Ground Force.
NOW: After travelling the world with Ground Force (they even made over Nelson Mandela's backyard!), Walsh went on to make various TV appearances and appeared in several advertising campaigns despite admitting in a 2013 interview he 'never planned to be a TV personality'. He created his own DIY range for Poundland in 2015.
Sarah Cawood
WHO: Presenter and reporter who popped up on numerous shows in the 00's.
NOW: Announced in 2014 she was 'letting go of her media career' to become a 'stay at home mum'. Sarah suffered serious health problems in 2016, after receiving a life-saving operation due to a septic bowel.
Melinda Messenger
WHO: Former glamour model and presenter of shows including '00s favourite, Fort Boyard.
NOW: After a series of short presenting stints, Melinda admitted in 2012 she's 'not wanted to do high-profile prime-time TV' any more, and '[has] no desire to be famous or on telly'.
Tara Palmer-Tomkinson
WHO: IT girl, presenter, columnist, model and general media darling.
NOW: Continuing to change careers, Tara has most recently embarked on the world of fashion. She launched the 'Kubbi', an all-in-one bodysuit after going on a yoga retreat in India, making TPT now a CEO!
The Chuckle Brothers
WHO: 'Oh dear, oh dear', it's Paul and Barry Chuckle.
NOW: Now aged 68 and 71, the pair teamed up with Tinchy Stryder for the charity single To Me, To You (Bruv) in 2014. With Chucklevision ending in 2009, they recently became the focus of a social media rumour linking them with The Great British Bake Off hosting role on Channel 4. Don't laugh! Actually... do!
Otis the Aardvark
WHO: Co-presented CBBC and Nickelodeon.
NOW: Whereabouts unknown. As the work dried up for him, was last seen working in the BBC canteen. However, former CBBC presenter Kirstin O'Brien said in a 2009 interview she still has the Otis the Aardvark puppet (sorry kids, he's not real...), and once used it unsuccessfully to impress a date.
All images REX Features or PA, except Otis the Aardvark (BBC).
Get the latest updates, reviews and unmissable series to watch and more!
Thank you for signing up to Whattowatch. You will receive a verification email shortly.
There was a problem. Please refresh the page and try again.