BOND EXCLUSIVE Jonathan Ross: The 007 I Know (parts 1 - 10)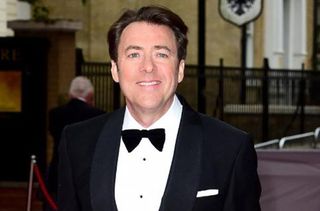 Ahead of the release of Spectre (Monday 26 October), and in a TV Times exclusive, 007 superfan Jonathan Ross (who recently presented his own ITV tribute to Bond) gives us his personal guide to the ultimate British movie icon.
1 I'M TOO MASCULINE FOR BOND
"I'd be lying if I said they hadn't asked me to play 007, but I think I've decided that for the legacy of Bond I shouldn't.
"I mean if you have a man playing Bond who's too masculine, like I am, and too physically strong I think it takes away some off the fun. So you want someone who's a bit puny and unattractive like Daniel playing it, rather than a masculine sex bomb like me!"
2 MY FIRST BOND MOVIE
"The first James Bond film I saw was Thunderball in 1965 with my dad. I was a kid and remember me being blown away by Tom Jones singing the theme song. I remember the opening sequence where Bond walks and then shoots down the lens – the fact that the character is looking at you and shooting at you sort of scared me. I loved that film, especially the great underwater sequence which has stayed with me for years. And once you get hooked, you tend to stay around."
3 MY LEAST FAVOURITE BOND MOVIE
"The first two Bond movies, Dr No and From Russia With Love, aren't great I don't think, although they've got some good moments. You look at From Russia With Love now and that weird chase sequence in the boats at the end looks like it's from Casualty! Nowadays we expect a level of sophistication and glamour that wasn't there in the old ones, at least to our eyes."
4 THE OTHER BONDS AND ME
"I even loved the Timothy Dalton Bond films and George Lazenby in On Her Majesty's Secret Service, that's a great film. I mean Lazenby was a good Bond. As an individual I think he was a bit tricky to work with back then. I interviewed him about 20 years ago for an ITV show called In Search of Bond, in which I interviewed all the Bonds except Sean Connery who I'd interviewed previously.
"And Lazenby was the first to admit that he hadn't really behaved sensibly, he'd got a bit grand too quickly. But that's a great movie as well. Pierce Brosnan was also a terrific Bond I thought and a lovely man, of course."
5 I LIKE BOND WOMEN
"In Spectre, I'm looking forward to seeing him interacting with two very different women, you've got the young blonde, played by Leá Seydoux and then you've got the older, sultry brunette played by Monica Bellucci.
"It's sort of interesting that's he got an age appropriate love interest for once, although a 50 year-old in Hollywood looks like a 25 year old in the real world. It's not like there's a 50-year-old from Benefits Street wandering around with him."
6 I WAIT CAN'T FOR CHRISTOPH WALTZ v DANIEL CRAIG
"What I'm really looking forward to seeing is Daniel Craig going up against whatever the character is being played by Christoph Waltz in Spectre. They're not admitting he's Blofeld yet, but Waltz is such a great screen actor and such a great screen baddie. I mean in Django Unchained he was a great goodie, but in Inglourious Basterds he was so disturbingly upsetting"
7 HOW DR EVIL RUINED BLOFELD
"I think Christoph Waltz might be playing Blofeld, but I'm not that excited by the thought. I think there's a degree of nostalgia when people talk about him because they remember Telly Savalas and Donald Pleasence. But you can't really play him like that anymore because you had Dr Evil in Austin Powers sending the whole thing up and I don't think we'd take someone seriously now with a white cat, it would just seem like a joke."
8 I DROVE BOND'S CARS – AND IT WAS SCARY!
"In my ITV behind-the-scenes show I get to drive Bond's DB10, which was a hair-raising experience. I also drive a little Fiat 500 (another car Bond uses in Spectre) around the Vatican where they shot the big chase sequence, which was an even more terrifying experience!
"When you've just got off the plane and can't remember which side of the road you're meant to be on, that's pretty scary. The DB10 was a beautiful drive, I think it goes from 0-60 in 4.7 seconds."
9 I KNEW DANIEL CRAIG WOULD BE GOOD
"I remember when Daniel Craig first got the part for Casino Royale there was a lot of talk, which seems ludicrous now, that he was too blond and too short and too this and too that, and I was one of the few people who came forward – I was loosely involved in film because of my film show on the BBC at the time – who said, 'No, he will be a great Bond.' And I think he's always remembered that and has been friendly to me because of that gesture."
10 WHY DANIEL CRAIG IS MY FAVOURITE BOND
"I think Daniel has become my favourite Bond now after Skyfall. But I don't think you really need to play favourites, I have a love for all of them. I still love Roger Moore and I grew up with the Sean Connery Bonds. Everyone says Sean is the greatest and I do think him and Daniel are my two favourites, if I had to choose."
COMPILED BY DAVID HOLLINGSWORTH
Get the latest updates, reviews and unmissable series to watch and more!
Thank you for signing up to Whattowatch. You will receive a verification email shortly.
There was a problem. Please refresh the page and try again.