Box Set Binge: Catastrophe, iZombie and Garth Marenghi's Darkplace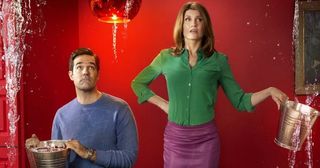 (Image credit: Tim Bret Day)
Stuck for something to watch this weekend? Sit back and enjoy streaming stand-outs Catastrophe (Amazon Video), iZombie (Netflix) and Garth Marenghi's Darkplace (All 4)
Have a peek at these top shows available on streaming services Amazon Video, Netflix and All 4...
Irish teacher Sharon and American advertising exec Rob meet in a London bar. Not too long afterwards, their worlds are turned upside down. Catch series 1 and 2 of hit comedy Catastrophe, which first screened on Channel 4, on Amazon Video now...
https://www.youtube.com/watch?v=bfccan1k2_4
After their first encounter, Sharon and Rob (played by series creators and writers Sharon Horgan and Rob Delaney) indulge in a week-long fling. His business trip in London over, Rob returns to his life in Boston - until, some time later, he gets an unexpected call from a distressed Sharon... she's pregnant!
More unexpected still is Rob's reaction - he moves to the UK to be with Sharon, determined to 'do the right thing' and be a committed parent when his child arrives.
The series follows the new couple as they try to come to terms with the twist in their fortunes and overcome the bumps in their lives - Rob's pushy mother (Star Wars icon Carrie Fisher) and Sharon's prissy friend (Ashley Jensen) among them.
Before she died, medic Liv Moore was motivated by a desire to save lives. After she died, she was motivated by a desire to eat brains. Catch series 1 and 2 of comedy horror iZombie on Netflix now...
https://www.youtube.com/watch?v=dycMoHn27ao
Successful and dedicated medical resident Liv (Rose McIver) is encouraged by her fiancé to let her hair down and enjoy a night out with pals at a boat party. Shortly after noticing a number of revellers taking the 'designer drug' Utopium, chaos erupts - people start savagely attacking each other and in a matter of minutes the party turns into a terrifying zombie feeding frenzy. Liv leaps from the boat into the cold water - and wakes the next morning in a body bag.
Skip ahead a few months, and Liv, who has lost all her ambition, split from her fiancé, and acquired a greyish hue to her skin, is managing to keep hidden from her family and friends the fact that she is a zombie.
A job at the city morgue allows her to satisfy her newly developed hunger for human brains and it is there she makes an unexpected discovery - eating the grey matter of corpses results in her experiencing visions of that person's memories, providing clues as to how they died.
Guided by her boss Ravi, who guesses her undead secret and is intrigued by her condition, Liv uses her new ability to help the local police department solve crimes.
As Liv adjust to her life after death, Ravi aims to find a cure for her affliction - but to do that, they'll have to get to the heart of the cause of her transformation.
Garth Marenghi's Darkplace (All 4)
Created by (and starring) Richard Ayoade and Matthew Holness, this horror parody first screened on Channel 4 in 2004 and has gained cult status in the years since. The entire six-part series is available on the channel's streaming service, All 4, now...
https://www.youtube.com/watch?v=R-1-62TcN70
In the 1980s, fictional horror author Garth Marenghi (Matthew Holness) and his publisher Dean Learner (Richard Ayoade) created a 'terrifying and radical' TV drama series called Garth Marenghi's Darkplace. It followed a maverick doctor as he battled against evil supernatural forces lurking beneath a hospital in Romford.
The drama was never broadcast, which Marenghi puts down to it being too cutting edge for audiences at the time – the reality is that it had hilariously awful special-effects, wooden acting and hackneyed dialogue.
Now, though, Marenghi is given a chance to introduce his drama to an unsuspecting public for the first time – with rickety footage from Darkplace interspersed with modern-day interviews with the drama's key players. The result is part-drama, part-horror and wholly comic.
Get the latest updates, reviews and unmissable series to watch and more!
Thank you for signing up to Whattowatch. You will receive a verification email shortly.
There was a problem. Please refresh the page and try again.