Boy George is shocked when someone sings one of his songs on The Voice – and he likes it!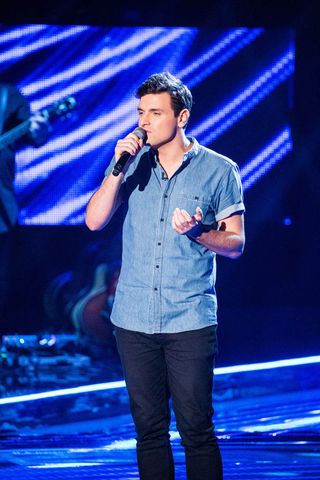 (Image credit: BBC / WALL TO WALL / GUY LEVY)
"I was dreading someone doing one of my songs," The Voice coach Boy George (opens in new tab) confessed on Saturday night… But he liked what he heard from 24-year-old Londoner Vangelis.
The part-time worker in a frozen food shop sang George's hit "Do You Really Want To Hurt Me?", saying before his performance: "If Boy George doesn't like it I'm sure he'll tell me."
Vangelis bravely sang a Boy George song and it paid off
But what George told his is: "I like it. That was pretty. When my record company released that song I thought it would ruin my career but it was actually the beginning of it.
"I've never heard anyone do one of my songs that well. I think I would know exactly where to take you," George told Vangelis. "I already have one contestant I thought would be the winner but that may have just changed."
Ricky Wilson (opens in new tab) and Paloma Faith (opens in new tab) also turned for Vangelis but he chose George as his coach.
Mari Marli took a risk by singing will.i.am (opens in new tab)'s "Bang Bang". She wanted to impress him – and she did.
But Will was the only coach to turn for her – and he didn't like her song choice.
will.i.am didn't like Mari's version of one of his songs – but he liked her voice
"It was the wrong song for you," he told Mari, "but I could hear how awesome you are."
"You did Will's song and he turned, so 'result'," George told her.
"But it was a bit frantic for me," added Paloma.
Will also added Vivica Jade to his team, after she sang Sara Bareilles' "Gravity".
George and Ricky also turned for Vivica, who told the coaches: "I've already been in two girl groups but now I want to be a solo artist."
Vivica had Ricky, George and Will pitching for her
Ricky conceded that he wasn't the "obvious choice" for Vivica but George told her, "I consider myself to be the comeback king. It's not smart to go with what's safe."
But it was Will tell her he thought she was "super dope" that won her over.
And, afterwards, George admitted: "I liked her spirit but I wouldn't have known what to do with her."
George also turned for Cilla Black (opens in new tab)'s great-nephew, Tobias Robertson, 22, from Newport in Wales.
Cilla Black's great-nephew Tobias impressed George
As Tobias sang Randy Newman's "You've Got A Friend In Me", George told Paloma, "He's great", and spun around.
But there was no fighting over Tobias as George was the only coach who did turn.
"I'm trying not to turn so much but you're a great singer," George told Tobias.
Ricky won two new singers for his team, too…
Busker Chloe Castro, 19, got his attention singing Hozier's "From Eden".
Ricky thought Chloe's performance was "magical"
"What you did was magical," Ricky told Chloe. "I wasn't going to let that go. But I didn't expect to be the only one who turned."
He was, though. Ricky was also the only coach who turned for 19-year-old Kagan, who sang Rihanna's "Take A Bow"… But waiting to see if any other coach would turn was, said Ricky, "the most nerve-wracking 60 seconds of my life!"
Ricky and Paloma pitched for Bradley Waterman, 19, a labourer from Norwich who says people call him "baby Elvis".
Armed with his guitar, Bradley sang Cee Lo Green's "Forget You" and Paloma turned – and didn't realise Ricky turned, too.
"Baby Elvis" Bradley will do more than sing and play guitar with Paloma
"I think you have a massive amount of potential," Ricky told Bradley.
"I'd want to take it beyond you singing and playing guitar," Paloma said.
And Bradley was sold on her pitch.
Perhaps the contestant who got the most valuable advice in this round, though, was 18-year-old music student Cian Ducrot…
Backed by a band, Cian sang Maroon 5's "One More Night" and didn't turn a single judge…
"I felt as if your voice was straining," Will explained to Cian, and George agreed with him.
"Try again, singing lower."
So, with just his guitar, Cian sang Adele's "Make You Feel My Love" – and Paloma told him she would have turned if he had done that the first time.
"Sometime's simpler is better," Paloma added.
The Voice (opens in new tab) continues on BBC1, Saturday, February 13, 7.15pm
Get the latest updates, reviews and unmissable series to watch and more!
Thank you for signing up to Whattowatch. You will receive a verification email shortly.
There was a problem. Please refresh the page and try again.