Brenda Blethyn reveals she and 'Vera' both get 'saucy' fan mail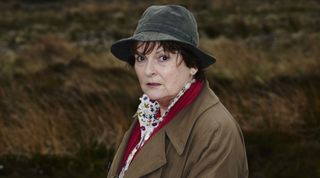 Brenda Blethyn has said she receives 'saucy' fan mail thanks to her role as ITV's fictional detective Vera Stanhope in the long-running favourite.
Speaking about the forthcoming sixth series of Vera on The Jonathan Ross Show, the 69-year-old discussed her correspondence.
"Some go to ITV, various methods to me via the agent. It's mostly appreciative," she revealed.
Brenda Blethyn as Vera (ITV)
"I get some saucy, actually, some of it, believe it or not, for Vera. Even Vera gets the phwoar factor!"
The Secrets & Lies star will turn 70 on February 20, but will keep any fuss to a minimum.
"I'm going to ignore it, probably. In our house we have birthday week so I'm treated for the whole week, but I don't do anything special and I don't think there's going to be any surprise parties or anything like that," she said.
http://www.youtube.com/watch?v=o13vfNKYpog&feature=oembed
"I might go to a health farm and just be pampered. That would be nice."
Brenda has previously praised her no-nonsense, slightly dowdy alter ego as a good TV role model.
"I think it's great a character like Vera is playing a commanding role because she's so ordinary. She's not a fashion model, she's not reliant on lipstick to be taken seriously, and she very much is taken seriously in the role.
Brenda Blethyn as Vera (ITV)
"She's not abrasive for the sake of it, there's generally a reason for it. And she has an equal amount of warmth and acknowledges something well done … She doesn't much like people who ask for compliments all the time."
The Jonathan Ross Show is broadcast on January 30 at 9:15pm on ITV.
Get the latest updates, reviews and unmissable series to watch and more!
Thank you for signing up to Whattowatch. You will receive a verification email shortly.
There was a problem. Please refresh the page and try again.