Bridgerton stars on the romances, scandals and balls in the Netflix show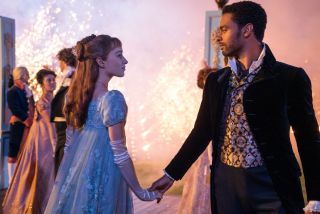 (Image credit: Netflix)
Netflix have spent millions of pounds on Bridgerton
Bridgerton is set to set viewer's pulses racing when it arrives on Christmas Day, as Netflix turn their hands to period drama in a racy and romantic show billed as a mix of Downton Abbey and Gossip Girl.
Regé-Jean Page and Phoebe Dynevor (daughter of Sally Dynevor, who plays Sally Webster in Coronation Street) will play the romantic leads in the eight-part Christmas TV highlight. It is based on the bestselling historical romance novels of U.S. author Julia Quinn.
The tale follows beautiful young Daphe Bridgerton as she makes her debut on the marriage mart, yet her hopes of finding love soon take a knock when her reputation is slandered by influential Regency gossip-columnist, Lady Whistledown.
The lavish series will feature a glittering cast of British actors, including Polly Walker, Claudia Jessie, Jonathan Bailey, Ruth Gemmell and Ben Miller. Yet the real highlight will be Mary Poppins star Julie Andrews, who'll be narrating the series as Lady Whistledown. Regé and Phoebe tell us more...
What excited you about working on Bridgerton?
REGÉ: "I thought that we could do something really exciting with this. There are empowering stories being told here in ways that haven't been told before. There was also an opportunity to put out some very powerful images that we haven't seen in this context. It was all very exciting to me so I jumped in with both feet."
PHOEBE: "Reading the scripts was quite overwhelming because I could tell that it was going to be a huge production! I had a really good idea of who Daphne was and I could relate to her in so many ways. I also knew that there were things that I would have to learn because Daphne had to horse ride, dance and play piano. It was quite epic and I was super excited."
https://www.youtube.com/watch?v=sIsKen3y-mU
What can you tell us about the story?
PHOEBE: "Bridgerton is set in the high society world of Regency England, which is such a fascinating period. I don't think I've ever seen anything like it. The story follows the Bridgerton family and their love lives. There's a lot of drama and a lot of scandal!"
REGÉ: "I would say that it's also about very, very tight costumes, both physically and metaphorically! People are very restricted in this world. Bridgerton is set in the nineteenth century and there wasn't universal suffrage yet. We're dealing with a marriage market which was one of the only ways for women to move forward. We're looking at how people grow and find their own agency in a world that places all of these restrictions on them, even in the context of such fabulous wealth, apparent ease and comfort. But it's also about having a scandalous, sexy, fun time in the midst of some of the most glamorous moments that anyone's ever seen."
What's in store when it comes to love and romance?
PHOEBE: "Simon very much rebels against these social rules which I think is probably quite exciting and sexy for Daphne. I think she is able to let her guard down with Simon and be herself which is really lovely."
REGÉ: "One of the tricky things in the series is that romance and love are adjacent, but not quite the same thing. I think that getting them confused and mixed up is part of the fun sub-plot of the show. There is pomp, ceremony and romance as a behaviour, and then there is love as a real thing that is felt between two people. Love is something that is genuine, delicate and involves care, passion and attention, and is entirely different to gifts, balls, jewels and circumstance. Unpicking the difference between those two things, both in our Regency world and exploring how that reflects us today, is probably the biggest theme of the show."
The Whistledown Society Papers cause quite a scandal at the start of the series, what can you tell us about the scandal sheet?
PHOEBE: "It's a paper that mainly takes the form of a gossip column about people in Regency London, but in the series we don't know who the author, Lady Whistledown, is. I actually don't think things have changed that much when you think about how much we still love celebrity culture."
REGÉ: "Whistledown holds the most powerful pen. She takes everyone and everything down from the inside out, which is scandalous and incredibly exciting. The second that people start wielding power that they're not meant to have, it shakes up polite society and it shakes up impolite society. So purely by the revolutionary act of telling the truth when no one wants to hear it and no one is used to hearing it, Whistledown lights a fire under everyone's life and no one quite knows how to handle it."
How did you feel when you learned the Julie Andrews would be providing the voice for Lady Whistledown?
REGÉ: "I found out when I was on a train and I yelped. It was a literal yelp. The entire carriage turned around. I was in my gym gear because I had come from a boxing training session for the show and I was attempting to look very masculine and yet, I yelped. That's how I found out that Julie Andrews was doing it. I was very pleased."
PHOEBE: "It was so exciting. I grew up with The Princess Diaries, and obviously Mary Poppins, and so it was incredible. I'm such a fan."
Did you have to learn many new skills for the show?
REGÉ: "The question is, were there any skills I didn't have to learn? Dancing, horse riding, boxing, elocution, Regency history and manners. There was lots and lots of research done for this part. Some of that was physical and some of it was academic. My favourite part of the job is learning about the world around me by going and playing around in it. The horse riding was really fun. I had only ever been on a horse three years ago in Texas and it turns out that Texan horses ride really differently! My international horse diplomacy is in its infancy."
PHOEBE: "It was incredible to learn all of these skills. I kept saying that when I was eleven, this would have been my dream. The horse riding was quite terrifying because I didn't realise that I would have to be side-saddle, so that was a new skill! I also loved learning piano and it's something that I want to keep doing after the show. The dancing aspect of this was initially really terrifying, probably more than horse riding for me, because I've always said that I couldn't dance. It was really scary, but our choreographer Jack Murphy was brilliant. There were so many dances and so much to learn but he made it so easy and so fun."
Did you get to put those new dancing skills to use filming many balls?
PHOEBE: "We would usually spend two to three days on each ball as there was quite a lot to shoot and we would film in these amazing locations. It was fun because they would play the music and we would do the routines. It would really help you get into character as I definitely don't feel like myself when I'm doing these dances because I'm not a dancer. It was quite spectacular to film the ball sequences."
REGÉ: "Also, the battles are no less brutal. I think I do a lot less damage with my fists than Lady Featherington or Lady Danbury do at the balls just with their words. That's the parallel that we're drawing because everyone is taking chunks out of each other in a show that's meant to be about love and romance. How do you bring together those really visceral battles and how much tension everyone holds? It is why I think they get so lusty, dare I say, because they've got all of this pent up energy and no way to express it."
What do you think of Bridgerton's universal cast?
REGÉ: "You're going to make me say the awful word! The universality of Bridgerton is love. It's the universality of any good story. It's learning how to love others, learning how to love yourself, learning how to hold that tight and dear and guard it no matter what the rest of your society is doing around that. That's the centre of it all."
PHOEBE: "I think everyone can relate to that butterfly feeling where you know that something is magical, you feel obsessed with this person and everything is wonderful. I also think that the complicated family dynamic, the female stories, and the character arcs are really relatable. There's something for everyone in Bridgerton and I think that's why it's a special show."
The first series of Bridgerton comes to Netflix on Christmas Day 2020
Get the latest updates, reviews and unmissable series to watch and more!
Thank you for signing up to Whattowatch. You will receive a verification email shortly.
There was a problem. Please refresh the page and try again.