Car Share viewing figures have been released – and they're REALLY surprising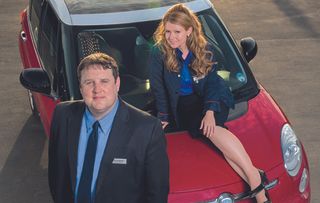 (Image credit: BBC/Goodnight Vienna Productions)
Wow, Car Share went out with a bang!
The later ever episode of Car Share got a simply enormous audience for its late 10pm slot, with a massive 6.1 million viewers tuning into the Peter Kay comedy.
The Car Share finale, which saw the last outing for John Redmond (Peter) and Kayleigh Kitson (Sian Gibson) will get an even higher figure once catch up viewers are included.
According to Telly Mix, Car Share comfortably beat EastEnders (4.3 million viewers) and Emmerdale (5.3 million) – the only soap to topple it in the ratings was Coronation Street, which pulled in 7.3 million as Phelan returned to cause chaos.
Sian tweeted that she was "absolutely overwhelmed by all the Car Share love".
Fans are of course optimistic that the BAFTA-winning comedy could return for more specials one day and Sian teased "Never say never" when she was asked about the possibility.
In the days when getting three million viewers to watch a comedy is considered a huge success, getting a figure of over six million is incredible.
Mind you Peter Kay's hit has some way to go to beat the royal wedding, with almost 18 million Brits watching the new Duke and Duchess of Sussex say 'I do' at St George's Chapel in Windsor – making it officially the most-watched TV event of the year!
Fingers crossed Car Share will return…
Get the latest updates, reviews and unmissable series to watch and more!
Thank you for signing up to Whattowatch. You will receive a verification email shortly.
There was a problem. Please refresh the page and try again.