Carol Klein's Top Gardening Tips!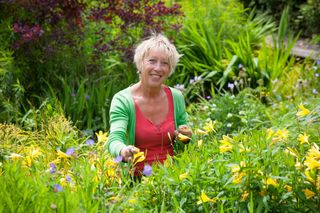 As Carol Klein prepares to co-host coverage of The Chelsea Flower Show, she offers her top tips for spring gardening
Ahead of next week's extensive Chelsea Flower Show coverage on BBC1, Gardeners' World's Carol Klein, who will co-present the show, shares her tips with TV Times for what you should be doing in your own gardens at this time of year…
1 Do the 'Chelsea Chop "If you have perennials like phlox take the plant down to about eight inches with a sharp pair of secateurs. You could do the whole plant or alternate stems and then they will branch out and you will get the flowers a bit later than usual and you will get more of them."
2 Deadhead your daffodils and tulips "It has been a great year for these but take the heads off now if you haven't already. Don't chop the foliage down though, even though it might look messy. It will soon go and the bulbs need those nutrients from the old foliage and you get better flowering next year."
3 Put out your tender plants "We should be frost-free now so it is worth taking a chance to put out your tender plants from cosmos to squashes. You can use newspaper to insulate if you need to – it is just as good as fleece – but weight it down if it is windy."
4 It's not too late to start some things from seed "If you've forgotten about seeds, hardy annuals like poppies and love-in-a-mist are great to be sown directly now. Just clear a patch of ground and sow it through a border and they will grow later this year."
5 Earth up your potatoes "You should be putting extra compost in and take it right up the shoot to give you a bigger crop. If you haven't got your potatoes in yet or if you haven't got a garden you can plant them in special fold-up bags and use compost. Push them in and pot them up when they start coming through."
The Chelsea Flower Show airs on BBC1 and BBC2 from Sunday
Get the latest updates, reviews and unmissable series to watch and more!
Thank you for signing up to Whattowatch. You will receive a verification email shortly.
There was a problem. Please refresh the page and try again.