Casualty star Cathy Shipton talks Duffy's big mental health storyline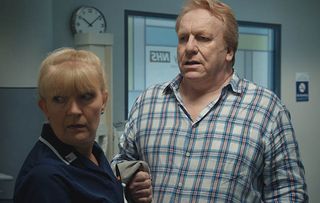 (Image credit: BBC)
Cathy Shipton discusses Duffy's shock diagnosis, her history with childhood sweetheart Bill and why there's trouble ahead with her husband Charlie
With nurse Charlie Fairhead up to his eyes with Emergency Department paperwork, meetings and generally running the show, his wife Duffy has been keeping herself to herself. It may seem like a supportive move, but after months of brushing her needs under the carpet, this week Duffy is diagnosed with anxiety and depression. Sadly, however, she's chosen to confide in former sweetheart Bill Crothers, rather than her overworked husband, Charlie. But can Duffy, who's started suffering from panic attacks at work, continue to keep her agonising anxiety problems from Charlie? And just what is going on with Bill?
We talked to Casualty star Cathy Shipton, who plays Duffy, to find out more.
Here she reveals the extent of Duffy's woes and reveals why she loves when Casualty storylines cause beloved characters trouble…
What is it about Bill that Duffy finds supportive?
"Bill and Duffy have a history from childhood. Duffy's going through a lonely journey. She knows she needs to share this with Charlie, but it's Bill who offers support. Bill witnesses Duffy's panic attack in the stairwell. Because of his wife he's got a history of dealing with this."
Is Duffy uneasy about confiding in Bill and not Charlie?
"She does feel conflicted. Charlie really is the first person Duffy should go to. She should value herself enough to say to Charlie 'I know you've got this inspection coming up [at work] but actually I've got this going on'. People can be their own worst enemy!"
How do you think Charlie would react?
"If Duffy were to say anything to Charlie he would stop in his tracks and suggest they make time for each other. I don't think she likes the fact that it's Bill who's seen her in this state and not Charlie. So you could say, why doesn't Duffy put herself first?"
Do you think viewers will be suspicious of Bill?
"You can see what he's going through with his daughter and you learn what he's been through with his wife, who was an alcoholic. People come with a lot of baggage. Meeting with an old friend, it doesn't mean it's going to turn into a romance, however, it may be misconstrued…"
Have you worked with Clive Wood before?
"No, but as actors we just clicked. I think that was seen in Bill's early episodes so they brought him back and he's been more involved. Bill's a lovely, lovely actor; a real class act."
Has Clive had any feedback from Casualty fans?
"Oh yes! Clive told me he's been getting black looks in the supermarket. He's already a persona non grata!"
Is part of you quite pleased when storylines upset the applecart between Duffy and Charlie?
"Of course! We're doing drama, not comedy, and drama is about conflict. Drama is where things have to be blown apart to come back in a new way. It reflects the lives of people working in public services. These characters are hard-pressed public servants. They work long hours, services are cut. It's informative but also ramps up the drama when you see these people in their workplace dealing with the public, putting on a smile, while their heart is breaking or their health [suffers]. All power to Casualty for highlighting that!"
Casualty continues this Saturday 29th September at 8:35pm on BBC One
Get the latest updates, reviews and unmissable series to watch and more!
Thank you for signing up to Whattowatch. You will receive a verification email shortly.
There was a problem. Please refresh the page and try again.