Casualty's Crystal Yu: Rebecca Ryan calls me 'hangry face'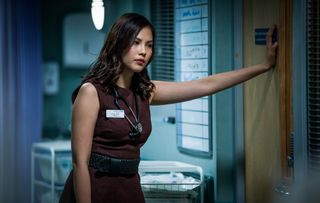 (Image credit: BBC)
The modern slang word 'hangry' means to be angry when you're hungry. Casualty star Crystal Yu reveals it's something she's guilty of, and Rebecca Ryan will back this up…
We cut straight to the chase in an interview with Casualty star Crystal Yu. There are strong rumours Dr Lily Chao may be the Casualty character killed off this year. Talking to What's on TV, Crystal reveals Lily's involvement in a violent hit and run and takes us on a wonderful journey behind-the-scenes at Casualty.
Colourful highlights include an insight into screen legend Sian Phillips, how Crystal made a terrible first impression on Rebecca Ryan, and why Lily has become a role model...
We know Gemma Dean (Shameless star Rebecca Ryan) runs Lily over this week. What leads to this shocking event? "Lily has been helping Gemma with her studies and exams. On the day of the accident Gemma takes an exam and it doesn't go as well as she wanted it to. At first Lily's too busy to pay attention to Gemma when she really needs support so the teenager runs off and gets drunk!"
What causes Lily to have a change of heart and chase after Gemma? "Lily realises Gemma is someone she really cares about. Work will always be there, but right now this person needs her. Lily always puts her career first so for her to leave work to find Gemma is quite rare!"
Casualty fans will realise how big a gesture leaving work is for workaholic Lily! "Exactly. Lily usually puts her career before everything else! It's not driven by any romantic tension Lily has with Gemma's brother, Iain, either. Lily sees Gemma is struggling. Gemma's unlucky but has a lot of potential and Lily wants her to know she's got her back and won't let her fail."
How drunk is Gemma when Lily tracks her down? "Lily realises Gemma is under the influence when she finds her driving around a car park. Ever logical, Lily realises this is a really dangerous situation and tries to stop her - only for Gemma to drive into Lily!"
You can't tell us if Lily lives or dies but… what can you tell us about filming the stunt? It looks really violent… "I had a brilliant stunt double who did all the hard work, she was just great! I love doing my own stunts, but I'd an injury from last year so the producer was protective that I wouldn't injure myself further. I was a bit gutted not to do the stunt, but it was for safety reasons."
Have you enjoyed the unlikely friendship between Gemma and Lily? "Having Rebecca Ryan, who plays Gemma, on the show is such a lovely addition. I get on so well with her. She's a lovely person and we laugh a lot! We have nicknames for each other now. I call her 'baby face' and she called me 'hangry face'."
Why does she call you that? "The first time we met I'd been filming all day and was starving. And when I'm starving you don't talk to me! Amanda Henderson, who plays Robyn, and Chelsea Halfpenny, who plays Alicia, had met with Rebecca earlier and I joined them later because I'd a late finish. As soon as I got to the restaurant I said 'Hello' and 'Can we order?!' Because it was a really busy evening I went up to the waiter to sort the order. Then I went back up to sort the cutlery and set the table! It wasn't until after I'd eaten and my sanity came back I realised that was her first-ever impression of me!"
Did you hang out more after that? "Yes, and Michael Stevenson (who plays Rebecca's on-screen brother Iain Dean) got really jealous of how close we are. We tease him all the time. When we go out for dinner we take selfies, send them to him, and ask him if he's jealous!"
Sian Phillips also guest stars in this week's episode. How was it working with someone so accomplished? "The child in me wanted a selfie, but I couldn't ask because it's so unprofessional! When you watch the show you'll see a scene where Lily has to check her character's abdomen for internal damage. Because we had to do the scene again and again, every time I felt Sian's abs I'd the same mesmerised reaction – 'you've got very firm abdominal muscles; that puts my food baby to shame!'
"Sian has been doing Pilates and Gyrotonics since she was thirty and made me realise I need to start right now. I only exercise mine by eating!"
We really hope Lily doesn't die; she's become an integral part of the show. Do Casualty fans tell you that? "I didn't realise when I first joined that there aren't many Chinese-Asian actors on screen. But since playing Lily I've had girls who are either British-born Chinese or half-Chinese writing and tweeting saying, because of Lily they started to learn Chinese. It really touches me. It's amazing they're in touch with both of their British and Chinese culture. I never realised the weight Lily carried until then.
"Lily's Chinese, she's British, and she's a successful doctor… I'm very grateful the show allows her to be a role model."
Watch Casualty's hit and run episode on BBC1, Saturday April 22 at 8.10pm
Get the What to Watch Newsletter
The latest updates, reviews and unmissable series to watch and more!
Writer for TV Times, What's On TV, TV & Satellite Week and What To Watch
With twenty years of experience as an entertainment journalist, Elaine writes for What's on TV, TV Times, TV & Satellite Week and www.whattowatch.com covering a variety of programs from gardening and wildlife to documentaries and drama.
As well as active involvement in the WTW family's social media accounts, she has been known to get chatty on the red carpet and wander into the odd podcast.
After a day of previewing TV, writing about TV and interviewing TV stars, Elaine likes nothing than to relax… by watching TV.