Cel Spellman 'buzzing' over Cold Feet return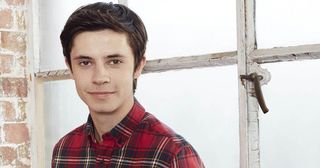 As Cold Feet concludes on Monday night, actor Cel Spellman considers what the future might hold for his character Matthew in series two...
Cel Spellman is 'over the moon' that Cold Feet will be returning for a second series.
Fans were delighted when it was confirmed last week that the ITV drama, the current series of which concludes tonight, had been given the green light for series two.
Cel, who plays 15-year-old Matthew Williams, the son of James Nesbitt's Adam, said he's 'buzzing' that he'll be getting the chance to do it all over again.
"I'm over the moon," said Cel. "We were nervous about bringing it back because we didn't want to affect the legacy that it had left, so there was just that sigh of relief that the fans did enjoy it, new fans enjoyed it and the reviews and the figures really have been overwhelming.
"As the series was playing out, I was thinking that all the ingredients were there for it to go again – but I never like to count my chickens before they've hatched so I was just like: 'fingers crossed'."
Cel as Matthew with James Nesbitt, who plays his on-screen dad Adam
Actor and presenter Cel admitted that he thought his on-screen dad had been informed of the news a while ago but was keeping it from him.
"Before it was announced," he said, "myself and Jimmy were out together at the UNICEF Halloween Ball, so we were speaking about it there, but it hadn't officially been confirmed. And I was saying: 'Jimmy, you must know something' and he was going: 'No, no', so I was like: 'Alright, yeah, OK, don't tell me then'. I'm sure he knew before me but he played it very cool. But I know he's excited it's coming back as well."
Cel was recently announced as the host of The V Room, the official 'switchover' show for The Voice UK, which comes to ITV early next year.
Talking about what he'd like to see happen for his character Matthew in series two Cold Feet, Cel said: "I'm really interested now to see where he wants to go in life. I'm sure there will be more ups and downs with his dad but I'm really interested to see what choices Matthew makes as far as what does he want to be when he's older, where does he want to go. Does he want to go to uni? Does he want to go travel?
"There's a lot of these things now that I think Matthew has to figure out, now that he is settled, he's got his friends now, he's got a proper base, he's got a home, he's got his dad back. So now I think he can explore who is Matthew and what he wants to do. And, of course, when you're coming into 16-17 years' old, there's all sorts of stuff that starts going on!"
The final episode of Cold Feet airs tonight, Monday October 24 at 9pm on BBC1.
Get the latest updates, reviews and unmissable series to watch and more!
Thank you for signing up to Whattowatch. You will receive a verification email shortly.
There was a problem. Please refresh the page and try again.