Ex-Emmerdale and Casualty star Chelsea Halfpenny is not denying those Strictly rumours!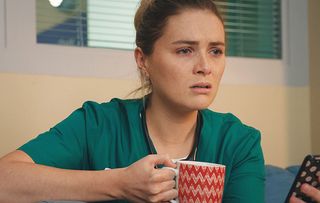 (Image credit: BBC)
Will Casualty and former Emmerdale actress Chelsea Halfpenny follow her glitterball winner Aunty Jill Halfpenny onto the Strictly dance floor?
Former Emmerdale star Chelsea Halfpenny – remember her as young mum Amy Wyatt – now Casualty's Dr Alicia Munro, tells Soaplife about her dancing skills…
What's the story?
It's rumoured that Chelsea Halfpenny, Casualty's Dr Alicia Munro, is to, literally, follow in the footsteps of her actress Aunty Jill Halfpenny and sign up for the next series of Strictly Come Dancing. Jill – who played Rebecca Hopkins in Corrie and Kate Mitchell in EastEnders - was crowned champion in 2004, with professional partner Darren Bennett, so would be a hard act to follow…
What's happening in Emmerdale? See the latest soap storylines
Casualty star Chelsea Halfpenny talks to Soaplife…
Soaplife: So will you be putting on your dancing shoes and signing up for the next Strictly?
Chelsea Halfpenny: "Never say never but I'm no Aunty Jill. I don't think I've inherited her dancing gene. I'm much heavier on my feet, for a start. I warn people about that all the time. A few years ago, I went to a contemporary dance class with Jill and it was such a laugh because she was so much better than me. She's incredibly flexible and does barre practise in her spare time. Compared to her, I'm rubbish!"
Jill Halfpenny with professional partner Darren Bennett in Strictly, 2004
S: Are you still in touch with any of your old Emmerdale mates?
CH: "Very much so. I went to see Charlie Hardwick who played Val Pollard in the musical The Last Ship the other night. She was brilliant. I hung out with Isabel Hodgins (Victoria) the other day, too. Isabel and Laura Norton who plays Amy's mum have become proper friends for life – as has Charlie. I really miss everyone in Leeds. It's quite a long way from Cardiff where Casualty is filmed and where I now live. I ran into the Emmerdale lot at the BAFTAs in May and it was great catching up with everyone."
Chelsea as Amy Wyatt, with Cain Dingle in Emmerdale
S: Talking of the BAFTAs, what about Casualty's win?
CH: "Oh, what an amazing night that was. We were all really excited about getting dressed up and attending the awards ceremony anyway but when we won the award for Best Soap and Continuing Drama, we couldn't believe it. It was such a shock and so unexpected – we genuinely never expected to win."
S: You were first in a Casualty episode back in 2004, weren't you?
CH: (Laughs). "I was actually. I got an episode off the back of the children's TV drama I was in, Byker Grove. I played a patient who had a broken leg and the props department made me a prosthetic because it had to look swollen. When I returned to Casualty in 2015, I asked the props people if they still had my fake leg. But they didn't so I was a bit gutted! It's funny how things have come full circle."
S: What do you like to do when you're not working?
CH: "I run. I've done a number of 10 km runs – most recently in Manchester for Bloodwise UK. It was a really hot day and I struggled a bit but the support from the crowd was amazing. I've just bought myself a bike, so hopefully I'll be doing a lot of bike riding. I also sing a bit…"
S: Professionally?
CH: "Well. . . Amanda Henderson, who plays Robyn in Casualty, and I do a few gigs locally. There's a guy we know who runs a local café and we perform there every now and then. I'm doing a gig tonight, actually. It's great fun and we don't take it too seriously. We don't have a band name or anything like that."
S: When did you decide you wanted to become an actress?
CH: "I was about five years old when I knew I wanted to become an actress. I went to singing and acting classes all through my school years and when I reached 10-years-old, I went to the open auditions for Byker Grove. That was the start of it for me…"
Get the latest updates, reviews and unmissable series to watch and more!
Thank you for signing up to Whattowatch. You will receive a verification email shortly.
There was a problem. Please refresh the page and try again.