Chris Evans and Matt LeBlanc: We're at war? That's news to us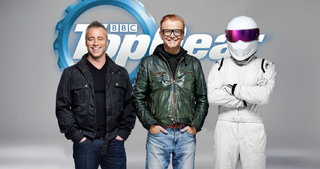 Matt LeBlanc and Chris Evans have made light of a story they're 'at war' behind the scenes on the revamped Top Gear.
The Sun published a story on Tuesday claiming the duo had fallen out over the infamous Cenotaph stunt during which Matt did a burn-out in front of the war memorial, an incident for which Chris subsequently apologised.
A source reportedly told the tabloid: "Since the Cenotaph their relationship has deteriorated. Chris thinks Matt has severely damaged the brand."
But Matt tweeted on Wednesday his surprise that they were apparently at war. "That's funny , I thought we were pals."
I'm at war with @achrisevans ?
That's funny , I thought we were pals.
— Matt LeBlanc (@Matt_LeBlanc) April 13, 2016
Chris was also quick to rebutt the story. He joked on Twitter that he'd just been on the phone to Matt to confirm 'we are at war as reported in The Sun'.
Just been on the phone to @Matt_LeBlanc to confirm we are "at war" as reported in The Sun today. He says, "sure, whatever.." Why I oughta !
— Chris Evans (@achrisevans) April 13, 2016
Chris said, on his Radio 2 show, after the Cenotaph incident: "On behalf of the Top Gear team and Matt I would like to apologise unreservedly for what these images seem to portray.
"There's been some very incendiary comments involved and written alongside these pictures and I completely understand all this furore."
Top Gear is scheduled to return on BBC2 in May.
Get the latest updates, reviews and unmissable series to watch and more!
Thank you for signing up to Whattowatch. You will receive a verification email shortly.
There was a problem. Please refresh the page and try again.