Chris Evans reveals exactly what he thinks about Jeremy Clarkson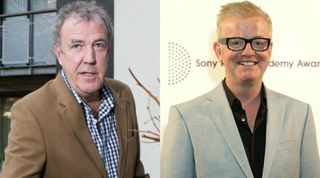 Top Gear host Chris Evans has said it is "bizarre" that Jeremy Clarkson was fired for "losing his rag over his dinner" after surviving several prior international incidents unscathed.
Jeremy was suspended and then fired by the BBC after a "fracas" when he punched Top Gear producer Oisin Tymon. The incident occurred after Jeremy was told there was no hot food available after a day of filming.
Top Gear producer Oisin Tymon is the man Jeremy Clarkson thumped (BBC Worldwide/PA)
Asked whether Jeremy deserved to be fired, Chris told GQ magazine: "What is more fascinating is that he went for what he went for, considering what had gone on before.
"If you look at the chronology of controversy of Top Gear over the last five or six years, it is bizarre that he went for losing his rag over his dinner when there had been international incidents before that."
Richard Hammond, Jeremy Clarkson and James May (Ellis O'Brien/BBC)
During his career as Top Gear host with Richard Hammond and James May, Jeremy was accused of making several xenophobic or racist comments, including saying a car manufactured in Mexico would be lazy, and calling Romania "Borat country, with gypsies and Russian playboys," causing local unrest.
He also faced a mob in Argentina after driving a car with the numberplate H982 FKL, which many Argentinians believed was a reference to the Falklands War.
Chris said Jeremy remains his hero, although the two have not met in some time.
New Top Gear hosts Matt LeBlanc and Chris Evans (BBC Worldwide)
Chris said: "We used to get on. I don't know if we still get on because I haven't seen him in ages. But he is one of my heroes. He's entertaining. He was great on Top Gear and I love his writing."
He added: "He is funny. He deconstructs things really well. They say if you can explain complicated things to a six-year-old you know what you're talking about, and I am like his six-year-old."
The new Top Gear host, who will make his debut when the show airs at the end of May, also brushed off the idea that the new line-up of presenters is an attempt at being "politically correct".
The full seven-strong Top Gear line up (BBC)
Chris said: "Some people want to infer that, but no. I hired the people I thought we needed.
"My job is to present and when they signed me up they said do what you want with it."
Presenters include female motor racing driver Sabine Schmitz, and YouTube car reviewer Rory Reid, who is black.
The new series of Top Gear is expected to start on BBC2 at the end of May.
Get the latest updates, reviews and unmissable series to watch and more!
Thank you for signing up to Whattowatch. You will receive a verification email shortly.
There was a problem. Please refresh the page and try again.