Christine Bleakley goes wild in Ireland on new ITV adventure series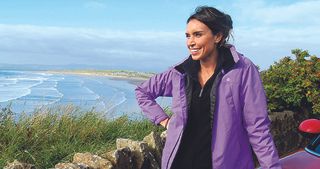 TV Times talks to Christine Bleakley about her new six-part ITV series, Wild Atlantic Ways (premieres on ITV, Monday, April 13)...
Which challenge really tested your mettle?
"I'll give anything a go, but occasionally I'll get to it and think, 'Oh, why did I put my hand up for this?' And there's an element of that when I jump 30ft off a cliff! If the cameras weren't there I wouldn't have done it. It was a case of ignorance being bliss that day, because even though it had been described to me, it's very different when you're standing at the edge!"
How did this compare with other programmes you've been involved with?
"I do adore being in the studio, and doing This Morning or Dancing on Ice with Phil [Schofield], but there's something really lovely about being out on the road. And you get to disappear for a while when filming a series like this."
Would you ever move back to the Emerald Isle?
"My parents, sister and friends are all there, but I'm lucky that I can go back quite often. I still refer to it as 'going home'; it's in my DNA to say that to be honest. I love being surrounded by the greenery and having the ocean alongside me… I forget how beautiful and simple it is when I'm caught up in crazy city life in London."
Did you find time to have 'the craic' with local characters?
"In true Irish style I came across all sorts of people on my travels and they were really excited that we were spreading the word about this beautiful part of Ireland."
So what are your favourite spots?
"Rossnowlagh Beach is a famous spot for surfing and we went there quite a bit as youngsters because my dad's family are from Donegal. I've only attempted surfing once before, though, and I couldn't do it. But I managed to get up for about a second-and-a-half this time! I basically crashed and burned every single time…"
Achill Island - "We were kayaking in and out of little caves around here, and it was breathtaking to be out in the ocean and looking back at the coastline. You could see the effects of centuries of erosion and its raw beauty, plus there were sea lions everywhere."
Galway Hooker - "Now, this could be misconstrued if you don't know what it is! It's a famous, old Irish boat, and there are very few of them left. We went out with a crew down in Galway and it was such a physical day, trying to manoeuvre the sails up against high winds."
Dark-Sky Reserve – "I'm a bit of a stargazer and there are only three of these gold-tier reserves on the planet – in New Zealand, Namibia and Ireland. There's no light pollution whatsoever and it's so dark that you can't even see your hand in front of your face. But when you look up, all you can see is the Milky Way. It's just breathtaking."
Croagh Patrick – "This was 100 per cent the most difficult challenge of the series. We hadn't anticipated how hard it was going to be to climb the mountain and the terrain was quite hideous. All of the crew injured themselves in some way, as it's such a steep and rocky landscape. But some people walk it in their bare feet as a penance and, apparently, if you do it three times you go straight to heaven… so I'm one-third of the way there!"
Get the What to Watch Newsletter
The latest updates, reviews and unmissable series to watch and more!