Jeremy Clarkson claims he was barred from taking a BA flight because of 'Argentinian hate crime'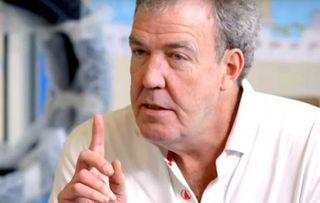 The Grand Tour presenter Jeremy Clarkson says an airport worked stopped him taking a flight in Germany in a row over the Falklands
Ex-Top Gear star Jeremy Clarkson has blasted an 'Argentinian' airport worker, accusing him of deliberately stopping him from getting on a flight in an alleged row over the Falklands.
Jeremy, 56, claimed he and his team were barred from getting on a BA flight to Heathrow in Stuttgart, Germany, by Manuel Pereira, claiming the airport worker told him at the departure gate: "I'm from Argentina, so f*** you."
Jeremy stirred up a diplomatic row in 2014 when he and Top Gear co-hosts James May, 53, and Richard Hammond, 46, were forced to flee Argentina while filming a Christmas special.
They had been driving around the South American country in a Porsche with the registration number H982 FKL, which some locals suggested could refer to the Falklands conflict of 1982.
Jeremy told The Sun that the comments at the airport were heard by Richard and a producer on the trio's new Amazon show, The Grand Tour, and said Pereira tried to claim the team were too drunk to board the aircraft.
Jeremy, axed from Top Gear after hitting a producer, told the newspaper: "The police said it was a hate crime and he would be arrested. Yes, even the Germans were 100 per cent on our side — for once."
He also told the paper the team got an easyJet flight back to Gatwick, arriving in the UK before their original flight, which had subsequently been delayed.
Pereira told The Sun he is Spanish and denied swearing, adding: "I would never say such a thing. I wasn't rude. I was polite and professional."
Get the latest updates, reviews and unmissable series to watch and more!
Thank you for signing up to Whattowatch. You will receive a verification email shortly.
There was a problem. Please refresh the page and try again.