Claudia Winkleman: 'There isn't one Sewing Bee contestant I wouldn't want an enormous lunch with!'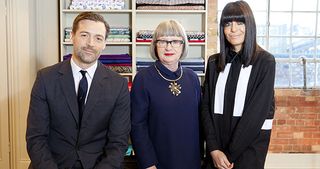 (Image credit: BBC/Love Productions/Charlotte M)
Pinking shears posed! TV Times (opens in new tab) talks to the judges and presenter Claudia Winkleman about the new-look and best-ever Great British Sewing Bee (opens in new tab) (BBC2, Monday, May 16).
Time to find out what else is in store as Claudia, Esme and returning judge, Savile Row's Patrick Grant, give us the low-down on the eight-part, 10-competitor series…
New location, new judge – are there any other changes this series?
Patrick: "People at home seem to be sewing more adventurously so, to keep up, we've broadened the scope of our challenges. For the first time we're asking sewers to make athletics-wear, lingerie and are also having a week on International Clothes, to reflect what we see on the streets. I'm impressed by the way they've got stuck into using tricky fabrics and kit they've never used before."
Esme, how does it feel to be joining the Great British Sewing Bee team?
"Terrifying! Fashion is my life, but TV is a completely new world to me. Everyone's been exceptionally welcoming and helpful though."
What's the judging dynamic like between you and Patrick?
Esme: "He's very tall and I'm very small!"
Patrick: "I see the high-up bits, she sees the low-down bits – we're literally judging from different perspectives! Because Esme spends her days surrounded by incredibly gifted, young students, she sees things in a dynamic way, which is great. And she makes me look the nice one, which I've always believed myself to be!"
Esme: "We do have disagreements…"
Claudia: "They're definitely not the same person and come at clothing in a different way. Esme can be harsh, but all the sewers are desperate to please her. She can look at something and go, 'That shoulder's off by half a millimetre' which is bonkers. She must have a super power."
This is the fourth series – are you surprised by the show's success?
Claudia: "I can't believe it. When we started and I saw people sat at machines I honestly thought, 'Oh no, we've finally created something people won't watch', but people love it. I get more comments about Sewing Bee than Strictly Come Dancing – actually, not quite true but it sounded good!
"Seriously, it's a brilliant combination of kindness and learning, so it feels gentle and slightly edible. Like the best eclair."
What are this year's contestants like?
Claudia: "There isn't one you wouldn't want an enormous lunch with. We've got a stay-at-home dad, hard-working mums, a phenomenal scientist, a wonderful teacher, a junior doctor – all walks of life. And the standard is better than previous series. Before, if anyone inserted an invisible zip we'd do a small conga, whereas this bunch are making some extraordinary clothes. It feels more like engineering than sewing."
Esme: "What I've really noticed is how much they help each other. They've become like a little community, which is lovely to watch."
Patrick: "They're the closest bunch of sewers we've had. One almost made a major mistake earlier and another stepped in to stop it. We have to remind them they're competing against other!"
What are the challenges this week?
Patrick: "First, they have to follow a pattern and make a bias-cut chevron top – fiendishly difficult to cut and match zigzags..."
Claudia: "For the alteration challenge, which is my favourite, the sewers have 90 minutes to transform a maternity dress, which is truly revolting. And they struggle – the judges get strict and tell them it's not good enough."
Esme: "The final challenge is fitting a skirt to a real model… no easy task."
Claudia, has your sewing improved over the years?
"No. I tried, but made too many mistakes, like making my daughter a cardigan with three sleeves. That was unfortunate. I do name tags and think they're quite artfully done… sometimes I do them at a jaunty angle."
Which celebrities would you like to inspire to sew?
Claudia: "I'm sure Anton Du Beke will have a go after watching!"
Patrick: "The Duchess of Cornwall – she told me she was a fan, which was nice. I'm not sure she's knocking stuff out, but when we met at London Craft Week she said she was very excited about watching the first episode!"
Get the What to Watch Newsletter
The latest updates, reviews and unmissable series to watch and more!