Claudia Winklemen: 'I'm still rubbish at sewing!'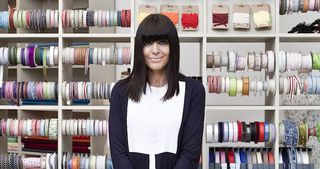 Claudia Winkleman has revealed that presenting The Great British Sewing Bee has not improved her sewing skills.
The 43-year-old host, who presents the BBC2 show, admitted that she once even added an extra arm onto a top.
"It hasn't improved my sewing skills. I'm still terrible. I can't thread a needle, to be honest," she says.
"I do try, though. My kids and I make all kinds of stuff that's really bad but weirdly, it becomes more fun when it's rubbish. I once managed to make a top with three arms so I'll never tell May Martin, the sewing expert, about that one."
The show, featuring May and Savile Row designer Patrick Grant as judges, aims to find the country's best amateur sewer when it returns to BBC Two on 5 February.
This year's hopefuls range from an artisan cheese maker and a sports physiotherapist to a retired air hostess and ex-Army officer.
"They're a totally mixed bunch. My job is to bring them tea and comfort," Claudia said.
"It's terrifying what they have to do. Two hours to make a skirt? The pressure's ridiculous!"
The TV presenter, who co-hosted the last series of Strictly Come Dancing with Tess Daly, continued: "I love Patrick and May; all we do is laugh. They never try to trip up the sewers but they do push them and want the best for them.
"Strangely, the contestants find the judges scary but also love them. As I'm wandering around, I'll hear them say, 'Ooh, May will notice I've got it wrong' or 'Patrick won't like that stitching'. They desperately want to impress them and I admire that."
Watch the new series of The Great British Sewing Bee on Thursday 5 February on BBC2 at 8.00pm.
Get the What to Watch Newsletter
The latest updates, reviews and unmissable series to watch and more!