Colin Morgan explains his attraction to dark roles: 'I think I look for a challenge' (VIDEO)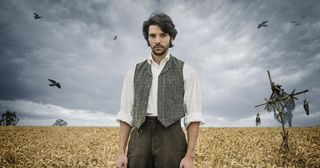 (Image credit: BBC)
Colin Morgan talks about filming the new series of Humans, doing post-production on The Fall and what attracted him to BBC1's The Living and the Dead
BBC1's new supernatural drama, The Living and The Dead could be Colin Morgan's spookiest drama to date.
Colin leads the cast as psychologist Nathan Appleby, who becomes haunted by the paranormal world when he inherits a family estate in 19th century Somerset.
The Merlin star explained to What's on TV what drew him to these dark and mysterious characters he's best known for.
"It's the darkness. That's what attracts me," he said. "I think I look for a challenge. I look for something, which reaches into my gut and pulls me towards it.
"So far it's been quite damaged characters. It's been the ones that have got something I really want to try and understand and embody - be possessed by."
But his work doesn't stop there. Colin has a busy few months ahead of him.
"I'm currently working on the second season of Humans at the minute which is going great.
"I'm also just about to do some post production stuff on the third season of The Fall, which is coming out later in the year.
"Again, Allan Cubitt has written stunning scripts. I think his third season is the strongest so far."
Comparing his latest drama to previous work, Colin hoped that viewers will enjoy this as much as the others.
"I have got so much passion and love for this project that you can only hope that people have the same.
"I think it definitely has the potential, it's got all the right ingredients but time will tell."
For the full interview with Colin Morgan watch the video, above…
The Living and the Dead premieres on BBC 1 on Tuesday, June 28, while the entire boxset bis available now on BBC iPlayer.
Get the latest updates, reviews and unmissable series to watch and more!
Thank you for signing up to Whattowatch. You will receive a verification email shortly.
There was a problem. Please refresh the page and try again.