Concussion | DVD review - Afternoons as a lesbian call-girl; then home for the school run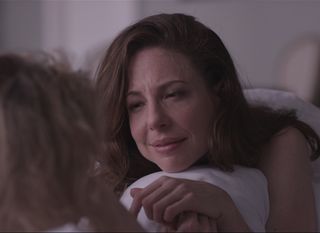 A wealthy bored housewife leads a double life as a high-class hooker in Concussion, a 21st-century updating of Belle de Jour that gives Luis Buñuel's 1967 classic the twist of making the wife one half of a lesbian couple and her clients exclusively women.
Motivated by pent-up sexual frustration and the need to escape her stifling suburban life, Robin Weigert's Abby starts secretly working as a high-class escort in the afternoons, using the Manhattan loft apartment she is renovating as her base but ensuring she gets home in time for the school run.
Weigert, best known for her role as Deadwood's drunk and disorderly Calamity Jane, brilliantly conveys Abby's restless longings and wry curiosity, showing us that she is exploring her identity as much as fulfilling her desires.
An impressive feature debut from writer-director Stacie Passon, who charts her heroine's messy emotional journey with a deft touch, casts a lightly satirical eye on suburbia and gives the sex scenes a sensuality that never slips into titillation.
Certificate 15. Runtime 96 mins. Director Stacie Passon.
Released on DVD by Spirit Entertainment on Monday 8th September. http://youtube.com/v/7Pw37SfrO9g To activate the sound in the trailer: hold your cursor over the screen to reveal the control panel and click on the volume control in the bottom right-hand corner.
Get the latest updates, reviews and unmissable series to watch and more!
Thank you for signing up to Whattowatch. You will receive a verification email shortly.
There was a problem. Please refresh the page and try again.