Coronation Street star Chris Gascoyne: 'Peter is worried he's lost Carla FOR GOOD'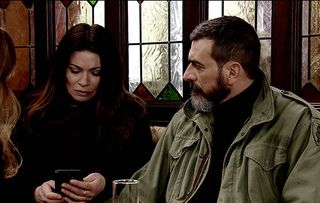 Peter crumbles in Coronation Street next week as he tries and fails to find missing Carla
A fortnight after Carla legged it out of the medical centre window, and she's still nowhere to be seen. That's bad news for the brunette, whose mental health has deteriorated in the wake of the Underworld roof collapse, but it also spells potential trouble for Peter, reveals Coronation Street star Chris Gascoyne.
Peter's worried sick about his girlfriend, and frustrated with his inability to track her down. Buckling under the pressure, could he end up reaching for the bottle?
Seeing his dad under strain, young Simon suggests they make use of social media by posting a photo of his former stepmum with #FindCarla. Peter's cynical about whether it will work, so he's pleasantly surprised when they get a notification from someone claiming to have caught sight of Carla.
Hoping it could be the lead he's been waiting for, he replies to the sender – a guy from Carla's old estate, who says he'll help in return for cash.
"Ken is really sceptical; he wants to do things by the book and call the police," reveals Chris, who plays Peter. "But Peter thinks that could jeopardise things, and insists on keeping them out of it.
"The information from the guy leads Peter to a derelict house. He hands over a wad of notes, but things don't quite go to plan…"
Poor Peter leaves with his wallet substantially lighter, and Carla still AWOL. But he realises he was closer to finding the former factory boss than he thought when the cops reveal that Carla used her bank card at a cash machine on the estate, and was spotted close to the squat. He hotfoots it back there, with Carla's dad Johnny in tow.
When Carla still can't be found, Peter snaps and lays into one of the squatters. Johnny's forced to pull the pair apart, and a despondent Peter gives the chap his phone number before sloping off home.
"Peter feels really helpless – he knows how vulnerable Carla is, and wants to get her the help she needs," adds Chris. "He's frightened for her, and worries he has lost her for good."
Tormented by the thought of what might be to come, will the recovering alcoholic return to bad ways?
Coronation Street continues on ITV.
Get the latest updates, reviews and unmissable series to watch and more!
Thank you for signing up to Whattowatch. You will receive a verification email shortly.
There was a problem. Please refresh the page and try again.