Coronation Street fans furious over shock Dev Alahan and Gina Seddon moment: 'Lowest of the low!'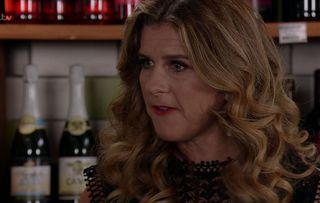 Coronation Street fans were left fuming on Friday after Dev Alahan suddenly called time on his relationship with Gina Seddon.
As Gina put in a real effort for her boyfriend's golf club launch, Dev's attention seemed to be elsewhere and he completely ignored his other half.
After coming to the end of her tether, Gina - played by Connie Hyde - then confronted the corner shop owner over his behaviour and told him she thought he was embarrassed by her because of her bipolar disorder.
Crossing his arms, Dev (Jimmi Harkishin) refused to respond which led to an emotional Gina telling him things were over as she stormed out in tears.
And it didn't take long for viewers to blast Dev for his actions as they rallied around Gina.
"Ohh 😯 poor Gina feel sorry for her💔she deserve someone much more better than Dev!#Corrie", said one fan on Twitter.
"Gina is wonderful Dev, she is too good for you. #Corrie", agreed another.
Another blasted: "Dev is dumping gina just because of an illness that she can't control like that is the lowest of the low. #corrie".
While a fourth added: "Gina can do better than Dev tbh #Corrie xx".
And they weren't the only ones...
Although Gina might not be staying single for long by the look of things after she was flattered when Tim Metcalfe went out of his way to defend her.
As Tim told newly single Gina how good she looked, and that Dev was an idiot for letting her go, some might say there was a bit of a spark.
And with her sister and Tim's wife Sally possibly heading to prison for fraud, fans just couldn't help but predict a Corrie love affair brewing.
"I bet Gina will end up going after Tim at some point. #Corrie", suggested one.
While a second added: "Tim going to have an affair with Gina #Corrie".
We'll have to wait and see what happens!
Thank you for signing up to Whattowatch. You will receive a verification email shortly.
There was a problem. Please refresh the page and try again.