Coronation Street fans work out what happens next after shock murder twist
Coronation Street viewers saw Stephen Reid kill Leo Thompkins in last night's episode.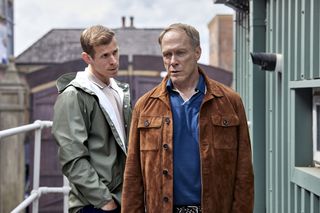 (Image credit: ITV)
Coronation Street fans watched last night's episode in shock as desperate Stephen Reid murdered Leo Thompkins.
Stephen is in dire financial straits and with his estranged wife Gabrielle on his case for the money he stole from her, he couldn't see a way out.
But Leo discovered Stephen was planning to sell Audrey's house from under her and - foolishly - told sneaky Steve what he'd found out.
Leo had been getting ready to move to Canada with Jenny Connor. But a confrontation between Leo and Stephen on the balcony at Underworld led to a tussle. And when Leo dropped his phone and bent to pick it up, Stephen saw his chance.
Viewers were shocked at his cold-hearted brutality (and, let's be honest, a bit surprised by his strength) as he launched rugby playing Leo off the balcony and into the bin below.
As lifeless Leo lay among the factory rubbish, Stephen set about concealing his crime - he even went back later and moved the body.
Is this the beginning of a new serial killer storyline for Coronation Street?
Fans certainly think so - and they reckon they've worked out who Stephen could kill next.
Some viewers believe Stephen's troublesome ex-wife Gabrielle is someone who should be watching her back.
After all, let's not forget Street killer Richard Hillman's ex Patricia met a similar fate when she bothered him for money!
Though other fans think it's Audrey who needs to be careful, because Stephen wants to get his mucky mitts on her moolah.
But let's not forget this is Coronation Street, where murderers very rarely only kill once!
Could Stephen be on his way to racking up a victim count to rival Pat Phelan, Richard Hillman or John Stape?
It definitely looks that way!
Coronation Street usually airs on Monday, Wednesday and Friday at 8pm.
Kerry is a writer, author and editor with a lifelong love of the soaps, a passion for TV drama of all kinds, and an obsessive devotion to Strictly Come Dancing.
She was features editor of All About Soap magazine for more than a decade, covering every bit of excitement from all the UK soaps and the Aussies and still writes about all the juiciest gossip from the Street, the Square and the Dales whenever she can.
Kerry's also an author of historical fiction, and her two jobs collided when she got the chance to write two novels based on Emmerdale, and the Sugden, Tate and Dingle families, during WW2.
Thank you for signing up to Whattowatch. You will receive a verification email shortly.
There was a problem. Please refresh the page and try again.